Browse using the new Vinous website now. Launch →
Printed by, and for the sole use of . All rights reserved © 2015 Vinous Media
Vintage Retrospective: The 1999 Napa Valley Cabernets
BY STEPHEN TANZER | MAY 9, 2019

Nineteen ninety-nine was the middle year of a trio of cooler Napa Valley vintages, but from the start this vintage struck me as superior to both 1998 and 2000, with the wines showing greater density and structure, not to mention ripeness. There have been a few truly cool vintages on California's North Coast since then, but these are now rare events. In fact, some growers insist that global warming first made itself felt in California in 2001—and unless you're still in denial, there's no reason to believe that temperatures are going to moderate any decade soon.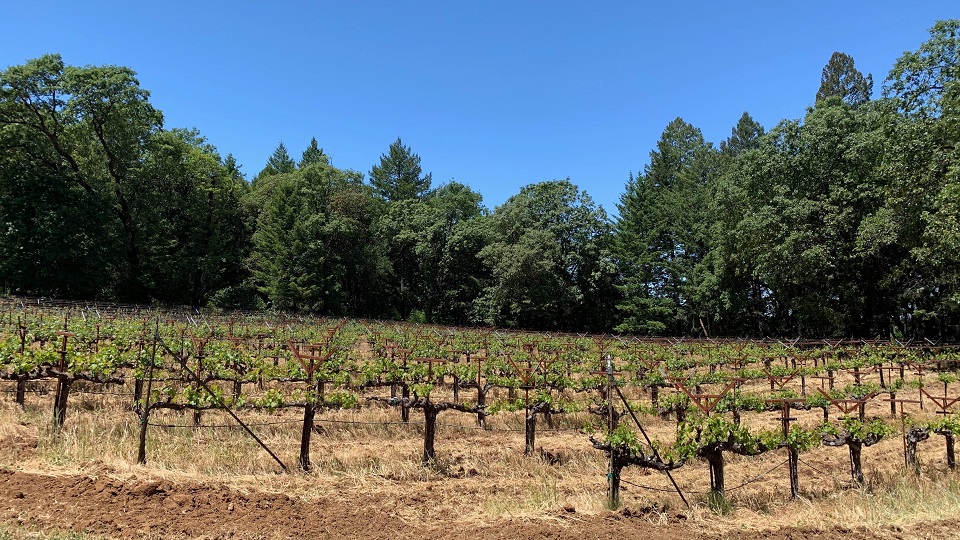 The Philip Togni vineyard, perched atop Spring Mountain
Another Cool Growing Season, But Not a Repeat of '98

The El Niño year of '98 began with very heavy January and February rainfall, an average March and an unusually wet and cool April and May, which led to a poor, very late fruit set. The summer remained cool and the harvest took place late, with red Bordeaux varieties picked mostly during the month of October, and with some rainfall providing challenges. It is a difficult vintage for finding wines without a distinct pyrazine character (i.e., bell pepper or other green notes—even asparagus—that are normally found in higher proportions in Bordeaux grapes than in most other varieties). But the most successful '98s have held up well and their initial savory herbal notes have integrated nicely, in a claret-like way.
Growers expected a repeat of '98 in 1999. Winter and early spring were again cooler than average, with rainfall extending through late April—but far less copious during January and February and, except for a few rogue showers, not continuing into May, as in '98. The bud break and flowering were later than average and in many instances drawn out. In fact, in most sites the Cabernet Sauvignon in Napa Valley flowered even later than it had the previous year, well into June. Once again, June, July, August and most of September were cooler than average, with only a couple of brief heat spikes in mid-July and late August. But in this La Niña growing season, fortunately, this period was bone-dry. Still, for the second straight year, the harvest would be late and growers feared that it would be a challenge to get their fruit ripe.
Happily, an unusually hot last week of September, which played havoc with earlier-ripening grapes like Pinot Noir, gave the Cabernet a boost. As the summer and early fall were dry, the fruit came in clean. And the long hang time without extreme heat meant that grape sugars mounted slowly as phenolic ripeness increased, and the grapes mostly retained sound levels of natural acidity. Except for the Sauvignon Blanc and the earlier Chardonnay, nearly all of the harvest took place during the last few days of September and the month of October, under much better conditions than in 1998.
The barrel room at Spottswoode, St. Helena

The 1999s Then and Now
From the start, 1999 struck me as a rather European style of vintage for California. When I first tasted these wines from barrel in early 2001, some winemakers described them as quite firmly structured, if not austere, owing in large part to a high proportion of skins to juice following the dry summer and late-September heat spike. They also expressed concern that their regular clients would find the wines tough going, or a bit green in the case of wines that showed obvious pyrazine character. (Some risk-averse growers may have picked too early, for fear that early-autumn rainfall would compromise their fruit.) The early reviews, especially by West Coast critics, were cautious. But the better young '99s displayed the perfume, density and tightly coiled spine of acidity to support a graceful evolution in bottle—or so I wrote at the time of their release. And a solid minority of producers similarly were enthusiastic about the vintage from the beginning.
My tastings in March, nearly 20 years after the harvest of '99, did indeed turn up some splendid wines, as well as some pleasant surprises. If I still don't rate the vintage quite as high overall for Cabernet as wines from more classic warmer—but not roasting-hot—Napa years with more even ripeness, it's still an excellent vintage. Only a handful of the '99s I tasted in March failed to rate at least 85 points, which is my cutoff for a "recommended" wine. The poor ones were mostly oxidative and in decline, excessively green and angular owing to incomplete ripeness, or simply too rustic to enjoy. Some wines showed porty or dehydrated fruit qualities, suggesting fruit that was harvested too late in search of ever-more hang time.
The typically firm acidity of the '99s has mostly permitted excellent fruit retention. The '99s as a group are evolving slowly (once again, most of the better examples were consumed too early), and the wines appear to have greater longevity than the '97s, for example, which I tasted en masse two years ago. Equally important, 1999 is a vintage whose cool side brought a full range of aromas, not just of varietal fruits but some interesting soil-driven mineral and floral tones and nuances of tobacco leaf, mint or black olive. The '99s are rarely plush or opulent in the style of much warmer vintages with greater ripeness; rather they are mostly midweight wines and quite stylish—yes, in a Bordeaux-like direction.
You Might Also Enjoy

Lail Vineyards J. Daniel Cuvée: 1997-2016, Stephen Tanzer, May 2019
Producers in this Article