Browse using the new Vinous website now. Launch →
Printed by, and for the sole use of . All rights reserved © 2015 Vinous Media
2015 Napa Valley – First Impressions
The 2015 Napa Valley Cabernets I have tasted from barrel so far are positively stunning in their beauty. Despite a year with considerable challenges and low yields, 2015 is shaping up to be a vintage of opulent, voluptuous wines with real personality and character.

The 2015 Growing Season

Drought conditions and higher than average temperatures during the 2014/2015 winter caused the soils to warm up early, even more so than Napa Valley's growers had seen in 2013 and 2014. Cool weather in May during flowering had some effect in lowering yields, depending on the site, but more challenges lay ahead.
Throughout the year, temperatures were higher than normal. "In 2015 we had 26 days over 100 degrees, whereas in a normal year we might see 10-12, including a stretch of five consecutive days with temperatures of 104 degrees," Lou Kapcsándy told me. It was a similar story at Joseph Phelps. "We had 20 days over 100 degrees. Dehydration was a real issue," winemaker Ashley Hepworth reported.
Dana Estates' Helms Vineyard, Rutherford
The most critical period arrived in mid-September. I had tastings scheduled for Monday September 14. The day before, Howell Mountain was evacuated because of a serious threat from a raging fire in neighboring Lake County. It was during this stretch of several days that temperatures were unrelentingly hot. "We started picking on September 9. Temperatures were above 100 degrees for four out of the five days we picked, and on the last day we had to deal with intense winds from the fires in Lake County." Lisa Togni relayed. Some producers picked in September, but more than a few also waited things out until October, when conditions improved dramatically.

A cluster with severe dehydration
The 2015s From Barrel
I spent several weeks in Napa Valley this past spring tasting through the 2015s from barrel. Spring is one of my favorite times to taste in Napa Valley because it is the best time to see the wines in a finished enough state to get a sense of the year, but before blending, which means at many properties it is possible to taste parcel by parcel or variety by variety. In many ways, tasting young Cabernet from barrel in Napa Valley during the spring is much more similar to tasting young Burgundy than Bordeaux as the wines have often not been racked or touched at all, whereas in Bordeaux, for example, the blends need to be mostly finished by that time in order for the wines to be presentable for en primeur.
So far, the 2015 Napa Valley Cabernets I have tasted are stunningly beautiful. Two thousand fifteen is a classic Napa Valley vintage built on opulence, texture and voluptuousness. Interestingly, the wines also appear to have a good deal of freshness as well, especially for a warm year. Unfortunately, yields are down around 30-35% across the board. Although weather during flowering was less than optimal, growers cite dehydration as the main culprit for lower production.
To be sure, the estates I have tasted so far represent la crème de la crème in Napa Valley. Given the quality of fruit I saw in the field, I expect the 2015s will be less consistently brilliant across a wider range of producers than in truly exceptional years like 2013. Still, there is no question that there is plenty to look forward to. The best 2015s are racy, exciting wines that are hard to resist, even at this early stage.
Tasting from barrel at Harlan Estate
2014 – Final Impressions Before Bottling
I also tasted a number of finished 2014s that will be bottled later this summer. The 2014s continue to develop positively. Stylistically, the 2014s today come across as slightly smaller-scaled versions of the 2013s, with the same shades of dark fruit and plenty of mineral/savory overtones, but less body, tannin and overall heft. I will have a better idea of the overall consistency of the vintage this fall, when I do my formal tastings, but at least at the top, 2014 is another strong and potentially outstanding vintage for Napa Valley.
Final blends of Blankiet's 2014s just prior to bottling
Three Winemakers to Watch
Frederick Ammons – Rudd Estate
Leslie Rudd owns one of the great pieces of dirt in Napa Valley. Yet Rudd Estate has had a mixed track record over the last decade or so. In my view, the wines have often come across as forced. Look for that to change under the direction of Frederick Ammons, who recently came over from Bill Harlan's Napa Valley Reserve. One of the most hands-on winemakers in Napa Valley, Ammons brings a refined touch, a keen palate, and an outsized passion for the many subtleties of site to Rudd Estate. The young wines I have tasted here of late show considerable promise.
Marc Gagnon – Bryant Family Vineyards
Marc Gagnon arrived at Bryant in 2014 from Screaming Eagle, where he was Assistant Winemaker. Right away, Gagnon's wines have shown remarkable finesse as well as potential. The 2015s I tasted from barrel earlier this spring were exquisite. Gagnon is another young winemaker who is hands-on. Every aspect of production is done on site, including bottling and shipping, both of which are exceedingly rare to see in Napa Valley. Long-term organizational stability has always been the Achilles heel at Bryant. Let's hope Bettina Bryant can continue to build on the strengths of the team that is in place today.
Nigel Kinsman – Various
Formerly at Araujo and Krupp Brothers, Nigel Kinsman has built an enviable track record over the years. Kinsman has several new projects that are worth watching. Late last year Hong Kong investor Henry Cheng purchased adjacent properties Reverie and Von Strasser on Diamond Mountain, plus the land to develop the Calistoga Hills Resort, which is expected to break ground within the next few months. The old Von Strasser parcels will be entirely ripped out after the 2016 harvest, while much of Reverie will also be redeveloped. Kinsman is making wine for the new owners from the Reverie parcels. I have tasted the 2015s from a barrel twice so far, and they have been impressive both times. In particular, Cabernet Franc appears to be especially well suited to this site. The current owners bought all the real assets but not the brands, so the name of the new wine that will be made here is yet to be determined.
Kinsman is set to start his own label with the 2016 harvest. The first Cabernet will be from Reverie fruit, while a second source comes online next year. Kinsman is also the winemaker for Jamie McCourt's new project from a site in Rutherford farmed by David Abreu. A man of many talents, Kinsman designed Wheeler Farms, Bart and Daphne Araujo's new custom crush facility on Zinfandel Lane, which I am told is state-of-the-art. I would expect nothing less.
David Abreu's Las Posadas Vineyard, Howell Mountain
Estates Tasted: Abreu, Ampère, Blankiet, BOND, Bryant, Casa Piena, Colgin, Continuum, Dalla Valle, Dana Estates, Futo, The Grade, Harlan Estate, Hardin, Harris, Hobel, Jones, Kapcsándy, Kinsella, Mending Wall, Ovid, Outpost, Joseph Phelps, Piper, Pulido-Walker, Promontory, Rivers-Marie, Round Pond, Rudd, Saunter, Screaming Eagle, Seaver GTS, Steltzner, Staglin, Stone the Crows, TBD (formerly Reverie), Philip Togni, VHR – Vine Hill Ranch and Wallis.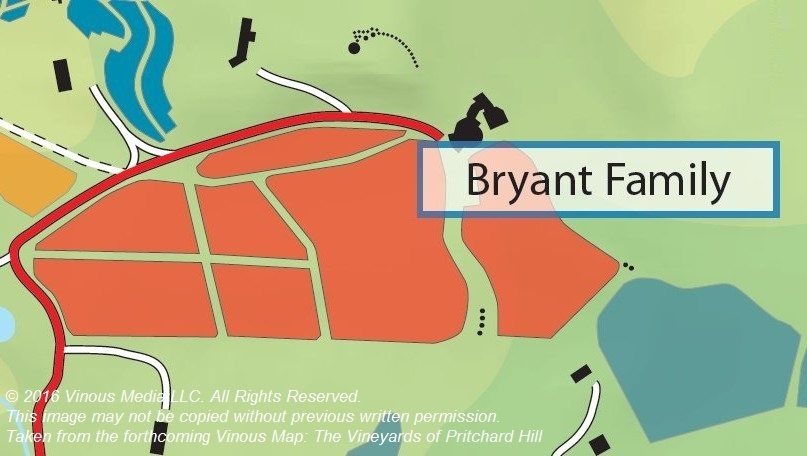 The Bryant vineyard, as shown in the forthcoming Vinous Map: The Vineyards of Pritchard Hill
Coming Soon

You Might Also Enjoy
The Undiscovered California – 2016 Edition, Antonio Galloni, February 2016
2013 Napa Valley: Once Upon a Time in America…, Antonio Galloni, October 2015

Uncovering the Best Values in California Cabernet Sauvignon, Antonio Galloni, October 2015

2014 Napa Valley – Vintage Report, Antonio Galloni, June 2015
New Releases from Napa Valley: 2012 and 2013, Antonio Galloni, December 2014
2013 Napa Valley: A First Look…, Antonio Galloni, May 2014

The Undiscovered California – 2015 Edition, Antonio Galloni, January 2015
-- Antonio Galloni