Browse using the new Vinous website now. Launch →
Printed by, and for the sole use of . All rights reserved © 2015 Vinous Media
Double Vertical of Ridge Vineyards' Geyserville and Lytton Springs
BY STEPHEN TANZER | AUGUST 22, 2018
Ridge Vineyards was one of the earliest champions of single-vineyard Zinfandels from ancient vines. Their top two estate bottlings have admirably withstood the test of time.
In the late 1970s, when I discovered wine through the portal of California, Ridge Vineyards had already established a reputation for its remarkably classy, taut, low-octane Monte Bello bottling, whose first official vintage was 1962, the year the winery in the Santa Cruz Mountains was re-bonded (the original Monte Bello winery was built in 1892). But fans of California wines at the time were just as likely to be regular buyers of two exceptional Zinfandel-based wines from Ridge, both of them inaugurated during an era when Zinfandel – much of it from very old vines – mostly went into jug wines. In fact, back then white Zinfandel was actually a thing. Even in the early '80s I recall my mother-in-law saying, "You mean Zinfandel also comes in red?" But among California insiders, Ridge's remarkably consistent Geyserville and Lytton Springs bottlings, both from Sonoma County, were already identified and pursued as collectibles.
The Lytton Springs winery, with its voltaic collectors
I published the results of a spectacular vertical tasting of Ridge's world-class Monte Bello bottling in the International Wine Cellar about 15 years ago. More recently Antonio Galloni published his notes on Vinous on a tasting of a number of Ridge Monte Bello vintages spanning six decades (I recommend that you refer to his July, 2015 article for its in-depth look at Ridge's origins in the late 19th century). In March of this year, Ridge's Chairman Paul Draper, who technically retired at the end of 2016 at the age of 80 after serving as head winemaker for nearly a half century, but still goes to his office at Ridge's Monte Bello winery in Cupertino two days out of three, staged a fascinating double vertical of Ridge's two most celebrated Zinfandel-based wines, presenting vintages from five different decades. I had asked to see a vertical of either Geyserville or Lytton Springs, but Draper had a better idea.
The Point of the Tasting
The double vertical had two objectives: first, to make the point that these are seriously nuanced, balanced wines that age slowly and gracefully, and second, and perhaps more important, to demonstrate that they are distinctly different wines that accurately reflect their terroirs ("they're from two totally different climates," noted Draper) despite the fact that the two sites are only a few miles apart as the crow flies.
To highlight the differences between these two bottlings, he presented each pair blind, beginning with the 1973s, now 45 years old, and asked the tasting participants to guess which was which. But he provided us with a few helpful clues before we began, first calling on John Olney, Chief Operating Officer and longtime winemaker at Lytton Springs (where Olney oversaw the construction of a mostly solar-powered straw bale and vineyard clay winery beginning in 1999), to fill us in on the Lytton Springs bottling. Then Eric Baugher, a microbiologist and Ridge veteran who is now winemaker and Chief Operating Officer at the company's Monte Bello winery, followed with a capsule description of the Geyserville wine, which has been made at Monte Bello since the outset.
As Olney noted before we began tasting, the Lytton Springs is the more masculine of the two bottlings, more Bordeaux-like in style, showing a darker fruit character owing to its sizable percentage of Petite Sirah (typically 15% to 20% since the 1980s). The Geyserville wine, according to Baugher, is initially fruitier and fresher – sometimes even a bit Pinot-like. Its secondary variety is 100+-year-old Carignane (also typically comprising 15% to 20% of the blend), which brings ripeness and acidity but reduces tannins. In sum, Lytton Springs is darker and earthier, with more serious tannins, while Geyserville is more penetrating, elegant and perfumed, even if some vintages are a bit more dark and serious owing to the particularly small Zin berries in those growing seasons. The Lytton Springs normally has softer acidity while Geyserville has actually required de-acidification in some vintages. While the Geyserville wine has never been acidified, Olney said he has occasionally added tartaric acidity to "a few parcels out of 35" at Lytton Springs.
19th century Zinfandel vines at Geyserville
Two Historic Vineyards
The Geyserville vineyard, situated three miles south of the town of Geyserville on the western edge of Alexander Valley, features a field blend that was originally planted in 1882. "We originally thought Geyserville was all Zinfandel but it was really 30% Carignane," said Baugher, adding that Ridge began including about 5% Petite Sirah in the blend starting in 1973 as the winery increased their purchases from the greater Geyserville vineyard. Ridge also began adding small percentages of Mataro (Mourvèdre) and then Alicante Bouschet in the 2000s. The site features decomposed granite and deep gravelly loam mixed with larger river rocks that were originally deposited by an ancient river that once flowed through the land. The original founders of Ridge, four engineers who worked together at the Stanford Research Institute, began purchasing fruit from the Trentadue family's oldest vines in order to launch the wine in the 1966 vintage. That first release, incidentally, came from late-picked grapes and finished with about 7% residual sugar (it was labeled "Essence"). But Ridge has offered a dry Geyserville bottling every year since then (plus small quantities of the Essence in 2007 and 2014). Ridge expanded its purchases from Geyserville over the years and in 1990 leased the vineyard and began farming it themselves. They finally bought the land in early 2017.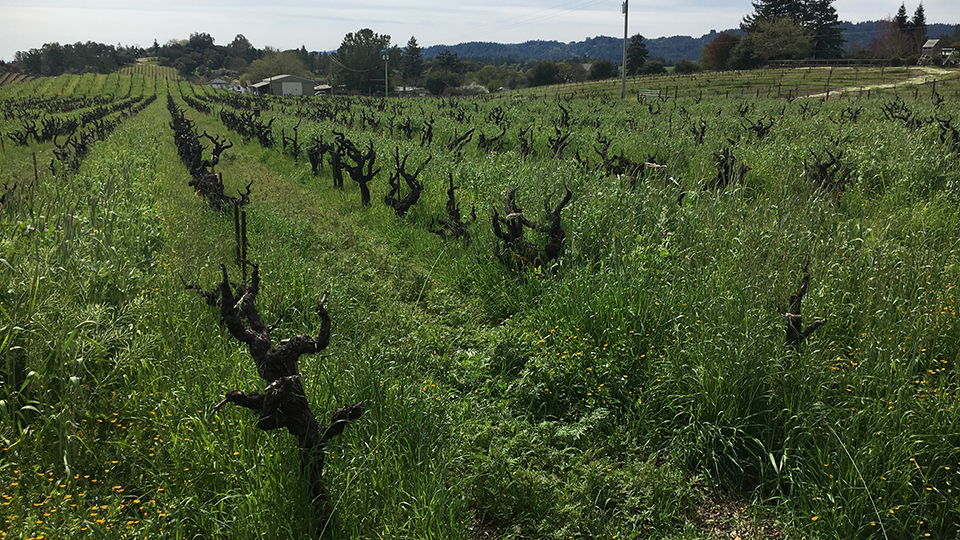 Ancient Zinfandel vines at Lytton Springs
Lytton Springs, which was planted between 1901 and 1910, is located just north of Healdsburg and less than a mile west of Highway 101. Here there's more clay in the soil, as well as round rocks; according to Olney, the site yields wines "with more obvious shoulders," but it can be more sensitive to drought. The harvest here typically begins at least a few days earlier than at Geyserville, where the fog normally burns off later in the day. "We have no explanation for the higher acidity of Geyserville," noted Draper, adding that it may be at least partly a function of greater minerality in its soil. The first vintage of this bottling, the 1972, was made entirely from Lytton East, which included the oldest vines. Ridge did not make a Lytton Springs wine from 1977 through 1983, as the owner of the vineyard decided to keep the fruit and bottle his own wine, but Ridge picked up again in 1984, when they also started taking grapes from Lytton West. Ridge purchased Lytton East in 1991 and Lytton West in 1995.
Both Wines Are Selections of the Best Material
The Ridge winemakers ferment each block separately (Lytton Springs can begin with 30 or more different components), then painstakingly make a selection by taste; the winemaking team lines up the blocks, blind-tasting four to six samples at a time and rating them. According to Draper, the primary criterion for selection is the ability of each lot to best express the classic character of its vineyard. Recently replanted vines rarely make the blend, but blocks featuring two or more interplanted varieties "typically make the cut earlier."
Production of the Lytton Springs wine has increased as Ridge pulled out and replanted blocks that were consistently missing the cut (the winery typically imitates its old mixed blocks when replanting), and has been in the range of 12,500 cases annually for at least the last 15 years. (The property now features about 100 acres of vines.) Geyserville, which now comprises roughly 50 acres of vines, has grown more slowly over the years, to about 10,000 cases today.
Production at Lytton Springs is between 1.5 and 3.5 tons per acre in most vintages, but there have been some outliers, such as the huge 1997 and 2005 vintages, when yields reached 4.5 tons per acre. Geyserville yields are roughly similar although the estate's oldest vines – now well over a century old – normally produce around 1.5 tons per acre and the young vines can yield up to 4 tons.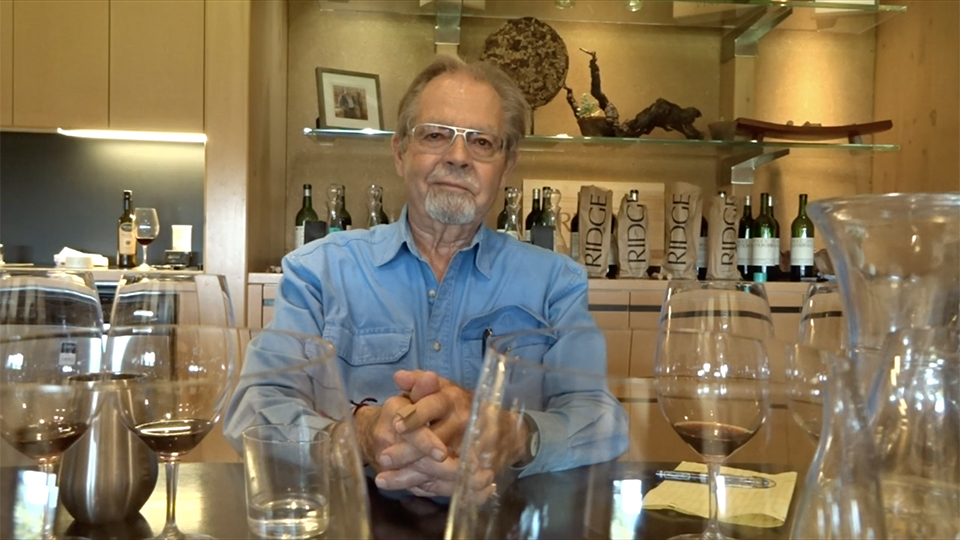 Multimedia: A Conversation with Paul Draper
"Pre-industrial" Winemaking to Preserve Site Character
The first Geyserville wine was produced from the 1966 vintage. In 1969 Paul Draper joined the original four partners at Ridge, quickly taking over winemaking duties and in short course putting Ridge on the international wine map. (Draper, a Stanford graduate in philosophy, came to Ridge as a winemaker but not a trained enologist, with a good working knowledge of traditional French wines.) He has variously described his approach to winemaking as "non-industrial" or even "pre-industrial." He ferments entirely with wild yeasts to maintain complexity and place character, makes minimal use of sulfur products, and eschews chemical treatments and membrane sterile filtration for fear of stripping the wines of color, flavor and texture.
Old Carignane vines at Geyserville
From the outset, Ridge made use of American oak to age its wines. The founding members wanted to produce wines of place (originally at Monte Bello), and they felt that just because they enjoyed the style of a particular Bordeaux château, that didn't mean they should use the type of French oak used by that property. They were making wine in California, after all. Paul Draper has spoken and written at length about his preference for properly coopered, air-dried American oak. As was the case with the earliest vintages of Monte Bello, the barrels used to make the Geyserville and Lytton Springs wines were neutral at the start (no new oak was used to age the '73s that I tasted in March) and the blend of barrels also included used Bordeaux and Burgundy barriques. While today Ridge ages its Monte Bello in 100% new oak, 20% is the maximum for their Zinfandel-based wines since the 1980s, and sometimes even less if there's also a high percentage of one-year-old barrels. And the new oak component is entirely American, with used French oak barrels accounting for the rest of the cooperage.
Keys to Longevity
Clearly, the most important key to the long ageability of the Ridge Zinfandels is the flavor intensity and depth that comes from very old vines. By now, Draper has had first-hand experience with nearly 100 Zinfandel vineyards in California, mostly tiny sites with old vines (many of these limited bottlings have been offered directly to consumers through Ridge's Advanced Tasting Program, which also includes single-site wines made from Rhône varieties), and he told me that the vast majority of them were incapable of making a wine that could equal Geyserville or Lytton Springs, "unless you added some Petite Sirah skins or made other adjustments." But the Geyserville and Lytton Springs wines, he added, "make themselves. At the heart of it all is the site, which remains a mystery."
An ancient Zinfandel vine at Lytton Springs
Harvest dates are also a critical factor in wine longevity. "We sample every block three to eight times before we pick it," said Draper. "And it's crucial not to let the fruit get overripe. We make wines in a moderately ripe style. By picking at lower sugars, we get complexity and raciness – more than simply black fruits."
Draper emphasized that he has always practiced a gentle extraction during the vinification. There's no pre-fermentation cold soak. The team leaves some whole clusters with Petite Sirah, "but with Zinfandel, where we do crush, we want to expose the seeds, which provide most of the tannins." The winemakers immediately start pumping over in the tank and within 24 to 48 hours the natural yeasts start working and the cap begins to rise. "At that point, we use a gentle irrigator to pump over," Draper explained. "With Zinfandel we continue the gentle pumpovers for the entire fermentation period, which typically lasts anywhere from 7 to 11 days." The wines are racked three or four times during the first year, on what is commonly referred to as a Bordeaux schedule, and the Geyserville wine is bottled after 13 or 14 months, the Lytton Springs a couple months later.
"Balance is everything to us," said Draper in March. "All of our wines will go at least 15 years without any loss, and some will go 40. By now, collectors have learned how well these wines age."
Ridge Geyserville and Lytton Springs
Finally, the Wines
I am happy to report that all four tasters correctly identified five out of the six pairs; interestingly, we each got a different pair wrong. But more important was the fact that there were no disappointments in the line-up. The oldest wines had aged beautifully in a claret-like direction and the bottles from the 2000s were still quite youthful. What all of the wines had in common was atypical complexity and restraint for Zinfandel – both qualities due to the age of the vines, the presence of other varieties and a general avoidance of high alcohol. These are elegant, gripping wines without exaggerated character.
Fifteen years ago, during my Monte Bello tasting with Draper, I recall him saying that, "as Zins mellow with age, they become more and more Cabernet-like" – to the point, he added, "where sometimes it's hard to tell them apart. And they do not overwhelm food." Today the early vintages of the Geyserville and Lytton Springs wines have considerable historical value, but unlike the overwhelming majority of California wines of similar age they are hardly artifacts of the past.
See all the wines in the order tasted
You Might Also Enjoy

Multimedia: A Conversation with Paul Draper, August 2018

Santa Cruz Mountains – The Gorgeous 2016s, Antonio Galloni, August 2018
Ridge 2017 Monte Bello En Primeur, Antonio Galloni, March 2018

Santa Cruz Mountains – The 2015s and 2014s, Antonio Galloni, August 2017

Seven Classics from Ridge, Antonio Galloni, June 2017
Ridge Monte Bello: Past, Present and Future, Antonio Galloni, July 2015

Two Vertical Tastings, Stephen Tanzer, September 2000

Producers in this Article