Browse using the new Vinous website now. Launch →
Printed by, and for the sole use of . All rights reserved © 2015 Vinous Media
2016 Napa Valley – First Impressions
BY ANTONIO GALLONI I JULY 19, 2017
Two thousand sixteen is shaping up to be another high quality vintage for Napa Valley. The young wines are aromatically expressive, open-knit and inviting, with soft contours, generous dark fruit and plenty of promise.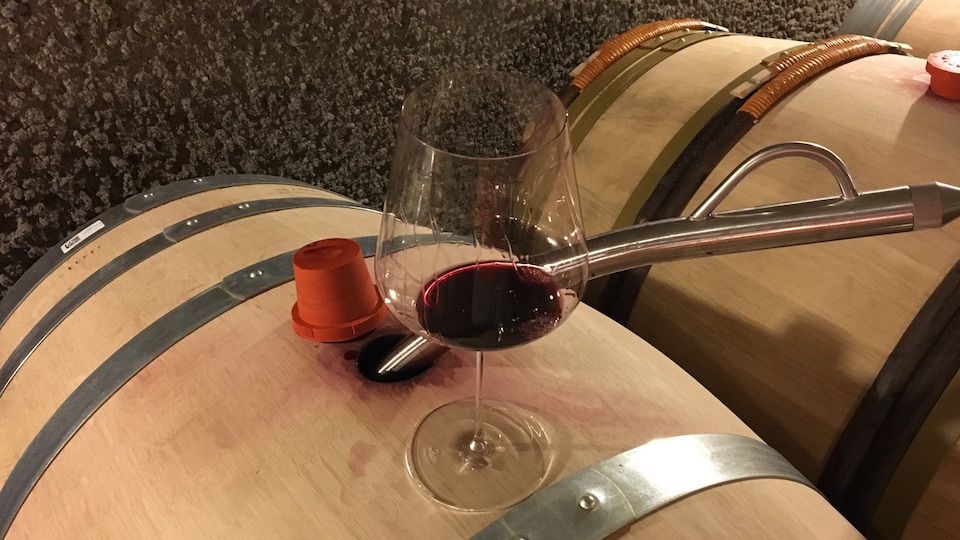 Tasting the 2016s at Bryant, Pritchard Hill
The 2016 Growing Season
I spent two months in Napa Valley in 2016, which gave me an opportunity to live through a good portion of the growing season and harvest. In the early part of the year, 2016 looked like it would be another precocious harvest. By late July, as we were wrapping up our research on our Stags Leap and Yountville maps, viticulturists and winemakers were getting ready for a harvest that was tracking along the lines of 2015, a freakishly early harvest the likes of which Napa Valley had never seen before. But August brought with it unusually cool weather that pushed harvest back into more normal time frame and also extended hang time considerably. That, in turn, gave producers a wide window in which to pick.
Clean fruit typical of the 2016 harvest
In the field, the crop was generous and clean, a stark contrast to 2015, where yields were tiny and further affected by sunburn and shrivel. The fruit I saw coming off vineyards in the fall of 2016 was impeccable. There were a few rain events during harvest, but their importance is hard to speak about in general terms because Napa Valley is so vast and winemakers have differing views on what constitutes optimal ripeness.
Core blends at Kapcsándy, Yountville
Tasting the 2016s
I tasted through a wide range of 2016s a few weeks ago. Some estates showed single component wines straight out of barrel, while others had assembled preliminary core blends. I found the 2016s to have striking aromatic presence and nuance. Where I was able to taste separate components, blocks or parcels, the differences between sites were quite marked, which suggests 2016 could be a vintage in which the terroirs of Napa Valley are nicely delineated. Structurally, the 2016s are medium in body and show very soft tannins, just as they did when I tasted the wines from tank last fall, with flavor profiles that lean towards the darker end of the spectrum.
The 2016s at Dalla Valle, Oakville
Today, 2016 looks like a combination of 2014 and 2012, with the dark flavors of the former and the mid-weight structure and overall feel of the latter. I will have a better idea of the vintage when I taste the wines again this fall. So far, though, 2016 looks like another high quality vintage for Napa Valley, with more consistency across the board than the 2015s showed at a similar stage in their lives.
You Might Also Enjoy
A Bond Extravaganza, Stephen Tanzer, June 2017
Vinous Map: The Vineyards of St. Helena & Conn Valley, Antonio Galloni, May 2017
Vintage Retrospective: The 2007 Napa Valley Cabernets, Stephen Tanzer, May 2017
Bryant's Cabernet Sauvignon: 1994-2014, Stephen Tanzer, May 2017
Arietta – A Complete Retrospective: 1996-2015, Antonio Galloni, May 2017
Seavey Cabernet Sauvignon: A Complete Retrospective, Stephen Tanzer, April 2017
Napa Valley Trilogy: 2014, 2015 & 2016, Antonio Galloni, December 2016
2015 Napa Valley – First Impressions, Antonio Galloni, June 2016