Browse using the new Vinous website now. Launch →
Printed by, and for the sole use of . All rights reserved © 2015 Vinous Media
Vicoletto 3, 6930 Bedano, Switzerland
Tel. +41 91 945 03 33
BY ANTONIO GALLONI | MARCH 24, 2018
The Food:
Selection of crudo
Lardo di Colonnata
Seafood risotto
Salt-crusted branzino
Roasted deer with vegetables
Berry and chocolate parfait
The Wines:
| | |
| --- | --- |
| 2002 Taittinger Comtes de Champagne | 97 |
| 1996 Salon Cuvée S | 99 |
| 1996 André Beaufort Brut Millésime Grand Cru | 93 |
| 1999 Roagna Barbaresco Riserva Crichët Pajè | 97 |
| 2000 Roagna Barbaresco Riserva Crichët Pajè | 96 |
| 2007 Clos Rougeard Saumur Champigny Les Poyeux | 94 |
| 2004 Ogier Côte-Rôtie Lancement | 92 |
| 1989 L'Evangile | 94 |
| 1989 Montevertine L'Ottantanove di Sergio Manetti | 90 |
| 2001 Bruno Giacosa Barolo Riserva Le Rocche del Falletto | 98 |
| 2001 Giacomo Conterno Barolo Riserva Monfortino | 99 |
| 2002 Miani Rosso Calvari | ? |
| 2006 Miani Rosso Calvari | 98 |
| 2011 Monti Il Canto della Terra | 94 |
| 1971 E. Pira & Figli Barolo | 94 |
| 1990 Pianpolvere Soprano Barolo | 98 |
I won't soon forget this spectacular dinner at Ristorante Osteria Carletti, a cozy restaurant/inn located in Bedano, Switzerland. For the occasion, dear friends in Lugano surprised me with a number of stunning wines and personal favorites. What a lineup! The team at Carletti prepared a fabulous menu. I try not to eat too much red meat these days, as I am on the road constantly, so I opted for the fish and seafood menu. OK, I did try the lardo. How could I not? The crudo dishes tasted like the ocean, the seafood risotto was to die for, and the salt-crusted branzino, enough for a family of four, was sublime. I did not taste the roasted deer and vegetables, but that dish looked amazing. And dessert was terrific, too. Despite its country-rustic feel, food is taken very seriously here. A number of rooms upstairs make Osteria Carletti the perfect place to unwind without thinking about having to get into a car late at night.
Taittinger's 2002 Comtes de Champagne is a great way to kick things off. Rich, radiant and lush, with all of the exotic ripeness of the year in evidence, the 2002 Comtes delivers the goods. This bottle is perhaps a bit more forward than others have been, but it is nevertheless very fine. The 1996 Salon is just dazzling. It needs a good bit of air to fully open up, but the 1996 Salon is simply a mesmerizing Champagne that sizzles with energy, cut and total precision. A second bottle later in the week was every bit as compelling. When the 1996 Salon is on, it is just about as great as Champagne gets. André Beaufort's 1996 Brut Millésime Grand Cru needs a lot of air for some initial funk to blow off. When it does, the 1996 is gorgeous in its expression of radiant Ambonnay fruit.
A duo of Crichët Pajès from Luca Roagna is fabulous. The 1999 is outrageously beautiful. Deep, structured and explosive in the glass, the 1999 delivers a serious dose of Nebbiolo classicism. The very first signs of aromatic development are finally beginning to appear in a Barbaresco that still has decades of life ahead of it. More than anything else, I am stunned by how far the 1999 has come over the last handful of years. Despite having arrived in Switzerland with me the morning of this dinner, the 2000 Barbaresco Riserva Crichët Pajè is superb. Playing true to type, the 2000 shows the soft curves and more accessible personality that has always made this vintage so appealing while retaining the formidable structure that is such a signature of the Roagna wines.

Selection of crudo
The 1989 L'Evangile is a totally sensual, inviting Pomerol endowed with striking depth in its red cherry and plum fruit. Silky and caressing on the palate, the 1989 has so much to offer. It should drink well for a number of years. Montevertine's 1989 L'Ottantanove di Sergio Manetti is a one-off from a vintage in which the rainy season did not allow for the production of the flagship Pergole Torte. Although the 1989 has held up very well considering the year, any remaining bottles need to be finished sooner rather than later. Clos Rougeard's 2007 Saumur Champigny Les Poyeux is striking. Rich and beautifully layered on the palate, with tons of Cabernet Franc character, the 2007 is a sexy, racy wine. I love it. Ogier's 2004 Côte-Rôtie Lancement has certainly aged well, and still has quite a bit of freshness. Even so, I find the very ripe style and oaky character a bit much for my taste.
Lardo di Colonnata
A pairing of Enzo Pontoni's mythical Calvari follows. The Calvari, 100% old-vine Refosco is one of the rarest wines in all of Italy. Pontoni has now stopped making the Calvari, a wine that belongs to a previous era in his career, but in the vintages it was made production was usually 2-4 barrels. Sadly, our bottle of the 2002 Calvari, a brilliant wine, is flawed. I suspect less than perfect storage is the culprit. There are no such issues with the 2006 Calvari. Another bottle I brought over from the US, the 2006 has handled its transatlantic voyage with no issues. Powerful and extroverted, the 2006 hits the palate with a rush of inky dark Refosco fruit, bittersweet chocolate, licorice, grilled herbs, cloves and new leather. The 2006 is another wine that stops all conversation at the table with its sheer beauty.
Seafood risotto
I won't confess to knowing anything about Swiss wine, because I don't. But Monti's 2011 Il Canto della Terra, 100% Merlot from steep, hillside vineyards, is seriously impressive. Powerful and sumptuous in the glass, this flamboyant, overt wine is not exactly subtle, and yet it offers so much character and personality. Super-ripe raspberry, red cherry jam, chocolate and sweet spice notes build as the 2011 shows off its alluring personality. This is a fabulous showing, especially considering the other bottles on the table.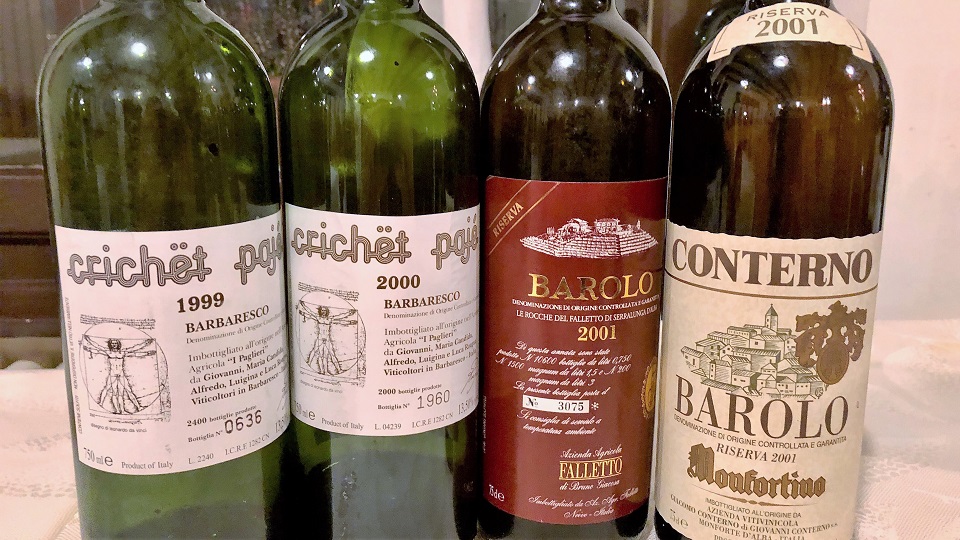 Four Piedmont gems
The 2001 vintage in Piedmont has long been a favorite of mine. Bruno Giacosa's 2001 Barolo Riserva Le Rocche del Falletto is explosive and decadently rich from the very first taste. The 2001 is arguably the last truly classic vintage for the Rocche Red Label. To be sure, the 2004, 2005 and 2007 are all compelling, but the 2001 has more in common stylistically with vintages like 1996 and 1999. Dense, perfumed and wonderfully intense, the 2001 is phenomenally great. Wow. Can you believe Conterno's 2001 Barolo Riserva Monfortino is next? Neither can I. What a wine. Sweet, perfumed and also massively endowed in every dimension, the 2001 Monfortino is another wine that pushes all the right buttons.
Salt-crusted branzino
Pira's 1971 Barolo is a gorgeous, fully mature wine from a long-gone era when late proprietor Luigi Pira crushed whole clusters by foot and made super-traditional wines. Sweet, perfumed and beautifully lifted in the glass, the 1971 captivates the senses with its exquisite beauty. Scents of orange peel, incense, dried herbs, sweet tobacco and rose petal give the1971 its exotic perfume and beguiling personality. This is a great bottle of the 1971. The 1990 Barolo from Pianpolvere Soprano is quite simply one of the most towering, mesmerizingly beautiful wines I have ever tasted. Deeply structured and powerful, the 1990 stands out for its classically austere style in a vintage that generally produced much more open wines. Bruno Giacosa told me on several occasions he thought Pianpolvere Soprano was the single finest vineyard in Barolo. As it turns out, Giacosa tried, unsuccessfully, to buy the estate after Ferruccio Fenocchio committed suicide in 1998. Fenocchio's 1990 Barolo remains a testament to his legacy and the greatness of this site. With its searing tannins and huge fruit, well-stored bottles of the 1990 will thrill readers lucky enough to own it for several decades. What can I say? Not all bottles are this profound, but on this night, the 1990 is an emotional, deeply moving Barolo of the very highest level.
Two epic Barolos
We tasted many more wines over the course of the evening, but the eternal beauty of the sublime 1990 Pianpolvere Soprano Barolo lingers on the mind and palate for several hours. I would like to thank my dear friends in Lugano for organizing such a spectacular evening, and for the staff at Ristorante Osteria Carletti for dedicating so much time and attention to our group.