Browse using the new Vinous website now. Launch →
Printed by, and for the sole use of . All rights reserved © 2015 Vinous Media
15, quai de la Tournelle
75005 Paris, France
Phone: +33 1 43 54 23 31
The Food:
Mimosa asparagus with black truffle (Asperges mimosa avec truffe noire)
Pike dumplings André Terrail (Quenelles de brochet André Terrail)
Roasted duck breast with orange sauce and asparagus
Paris Brest
The Wines:
1989 René et Vincent Dauvissat Chablis Les Clos – Grand Cru 98+
1990 Joseph Drouhin Griotte-Chambertin – Grand Cru 93
Founded in 1852 (though at that time the restaurant was most likely not in its present location of Quai des Tournelles), La Tour d'Argent is an iconic Parisian and French restaurant that has been mentioned in Marcel Proust's landmark literary work Remembrance of Things Past, has hosted countless celebrities from Marlene Dietrich to Orville and Wilbur Wright, and was one of the inspirations for Disney/Pixar's remarkably successful Ratatouille movie.
Even better for Vinous readers, La Tour d'Argent boasts what is most likely the world's single greatest wine list (the cellar houses over 450,000 bottles). Certainly, in the realm of French wines at least, nothing else comes even close. Although some of my friends have complained over the years that not all bottles seem to be in the same impeccable shape, I have never encountered such a problem in my many visits. So it behooves all wine lovers to eat at least once in their lives here and to take a gander at both the encyclopedia-like wine list as well as the magnificent wine cellar, which the staff will be happy to have you visit at the end of your meal.
The dining room, located on an upper floor of an historic building, is beautiful, with well-spaced out tables and a gorgeous treetop view of Notre Dame cathedral as well as of the Seine. A highly efficient, well educated army of uniformed waiters is extremely kind and attentive to detail, and soft-spoken head sommelier David Ridgeway one of the nicest, least stuffy people in wine you'll meet anywhere. Talking to him about wine and his magnificent wine list as he silently glides over to the table during the course of your meal is part of the memorable dining experience you'll have at La Tour d'Argent. Assistant chef-sommelier Laurent Jotteur is also a lovely man, knowledgeable and very helpful.
Mimosa asparagus with black truffle (Asperges mimosa avec truffe noire)

The restaurant is especially famous for its duck preparations (it owns a farm where the ducks are raised) and boasts that it has served over a million of the birds in its time. In fact, you will be handed a small certificate at the end of your meal with the exact number of your duck dish printed on it, a fun souvenir of your time at the restaurant. The idea of presenting a numbered certificate to customers ordering the restaurant's signature dish, pressed duck, first came to Frédéric Delair, who owned La Tour d'Argent in the 1890s and 1900s. Since 1912, the restaurant has been owned by the Terail family, who have logically enough continued the certificate tradition. Should you be interested, keep in mind that certificate number 112,151 went to U.S. President Franklin Delano Roosevelt, while Charlie Chaplin's duck carried number 253,652. More humbly, my latest certificate states my duck to have been number 1,149, 256. Admittedly, that's a lot of ducks.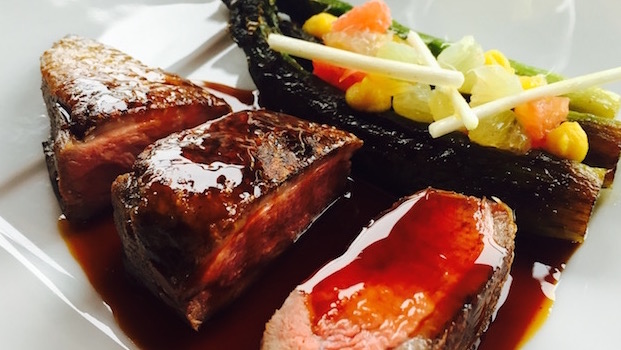 Roasted duck breast with orange sauce and asparagus
Over the years, the food at La Tour d'Argent has been the object of some criticism amongst foodies. The Michelin guide has also gotten into the act. A three star establishment until 1996, when it was demoted to two stars, La Tour d'Argent was further downgraded to one star in 2006. In my opinion, that is an ungenerous evaluation, given the quality of many two star restaurants in France and elsewhere, but so be it. And what counts most is not the awards, but the fact you'll have a very fine meal in a beautiful setting; and certainly the many well heeled foreigners and Parisians packing the floor nightly would seem to agree.
Paris Brest
My most recent lunch was without glitches. The asparagus mimosa dish was perfectly cooked and flavorful, and the pike dumplings a study in culinary airiness and flavor. The duck lived up to its fame, very precisely cooked in a rather straightforward and easygoing preparation.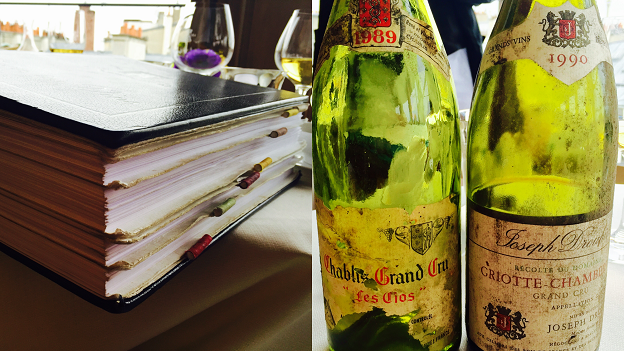 The encyclopedic wine list and the wines of the lunch

But it's hard to get away from the fact that it's the wines here that steal the show. Looking over the wine list, you simply don't know where to start. The choices are basically endless. On this day, I enjoyed the absolutely spectacular 1989 René et Vincent Dauvissat Chablis Les Clos, quite possibly the best bottle of Chablis I have ever had (and I've had a few). At the very least, I have never had a better-kept bottle of 27 year-old Chablis. The wine is drinking beautifully right now, showcasing an amazing act of balance, depth, concentration and purity. The aromas and flavors are precise and almost endless. The 1990 Joseph Drouhin Griotte-Chambertin is also drinking well, but it is starting to dry up a little (or at least, this specific bottle was showing signs of doing just that). The wine still boasts flashes of the 1990 typical luxurious fruit and showy personality, with the ethereal Griotte charm and grace, but a tougher streak emerges at the back. Still, this was exceptionally good old red Burgundy, almost always one of the best wines made by Drouhin in every vintage.
Though not inexpensive, the ensemble of very good food, great wines, a beautiful setting and impeccable service makes La Tour d'Argent a must, at least once in your life.
-- Ian D'Agata