Browse using the new Vinous website now. Launch →
Printed by, and for the sole use of . All rights reserved © 2015 Vinous Media
The F-Word: Bordeaux Right Bank 2017
BY NEAL MARTIN | MAY 1, 2018
1) Frost differentiated the "haves" and "have nots" in Pomerol, that is to say, those on the gravel plateau and those in the lower reaches that tended to be more impacted by frost.
2) On the plateau there is a cluster of excellent Pomerols, not as concentrated or as complex as in 2016 but in one or two cases not far off. Away from the plateau there are instances of under-ripeness and attenuated finishes.
3) Many samples developed during March and April, suggesting continued improvement throughout barrel maturation.
Pomerol can suffer severe damage if bitten by a late spring frost. In 1956, its vineyards were decimated en masse, even the likes of Petrus and Lafleur. It prompted then proprietor Mme. Loubat to confess that "life had slipped away" as she morosely surveyed her blackened vines, then pulled herself together and cut the surviving vines down to a nub in the hope that they would regenerate instead of pulling them up, as many did elsewhere. It worked. The frost in 2017 did not inflict as much damage as 1956 or in 1991. Why? Well, partly because of the efforts made to increase temperatures on the gravel plateau. Read the passage by Edouard Moueix to see how a combined effort managed to limit damage though, not everyone was spared. Eric Monnoret mailed me almost a year ago with a simple message: "2017 will be dramatically shorter: 100% frost!" He probably fell victim to the fact that the heavier cold mass of air naturally slipped down to Pomerol's lower reaches on the southern and western flank, populated by lesser-known growths and less propitious terroir. It helps explain the duality of Pomerol, success governed by whether your vines are located on the plateau or not. Those in lesser terroirs clearly suffered whilst the famous names enjoyed an excellent harvest, if not what I would regard as an exceptional one.
"Our vineyards in Saint-Émilion did not get hit by frost and we did not put any protection in place," Edouard Moueix told me at their offices in Libourne. "Even in 1956 the vines survived. In Pomerol we had three ways of fighting frost: the candles that we placed on around half the vines on the plateau, wind machines in the northern part of the plateau and then we had a big turbine with a rotating head that was installed at Trotanoy that protect one hectare. Along with Petrus and L'Eglise-Clinet we protected the entire plateau. There is one vineyard where we lost two parcels and that was Lafleur-Gazin. The biggest challenge was the drought during the summer. July and August were very dry so we had to limit the crop in order to control the cycle. The drought helped us in September [when it rained] as the acidities were still quite high and since the berries were not very big, the clusters were loose. So when the rains arrived we did not have so much problem with botrytis. The skins were still quite tight, we did not have a problem of split skins and botrytis was not a problem. We started picking on 8 September with the younger vines on the gravel soils and finished on 30 September as we were waiting for the parcels to reach the right level of phenolic maturity. We used optical sorting for all our wines [this was introduced back in 2009]. We kept the temperature at 26° Celsius during fermentation which is quite cool and drained the tanks after 21 days. The idea was to extract the beautiful tannin in the skins but not the seeds, some of which were not fully mature, as in 2016. Alcohol was not a problem coming in at 13° to 13.5°. As for the general style...I think it will be a vin de garde. The tannic structure and acidity is quite present. There is a lot of freshness. I don't think we will be in front of 2012 in terms of approachability and the 2017s will have to be kept longer. Perhaps it could be a modern take of the 1988s as the wines have less flesh?" I pushed Moueix to single out some 2017s that have really piqued his interest. "There are three wines that interest me," he answers. "Bélair-Monange, because now we understand the heart of the wine. The identity of the wine can be seen. Then there is Hosanna. It is a little less opulent. There is a parcel that we pulled out and a new parcel that is more rigorous, whereas before it was younger vines. For me the real success is La Fleur-Pétrus where there are a number of layers."
Usually I agree with Edouard Moueix although, I was a little more smitten by Trotanoy. He remarked that for him it was a bit "obvious", to which I replied: "Well, that's a good thing in my book." Yes, the La Fleur-Pétrus is a serious wine and actually showed more intensity when I revisited the sample in London a few days later. But the two most exciting wines for me are Hosanna, which is so much more sophisticated and more intellectual than when they first incepted the cru, and yes, Bélair-Monange that appears to be improving year upon year. Not everything appealed. I am a big fan of Certan-de-May but I still cannot work out why it seems to have gone off the boil in recent vintages. There is some overdue building work at the winery that is finally being expanded and so hopefully this will set in place for wines that replicate their strong patch in the mid-noughties.
At Château Clinet I was joined by Monique, Ronan Laborde's "better half" whilst in the adjoining room, a vociferous Chinese gentleman raved not about Clinet, but their wine from Tokaji, Château Pajzos. Ignoring the noise, it was heads down to examine the latest release. "We were a little touched by the frost," Monique Laborde told me, "but some of the affected vines don't go into the Grand Vin anyway. In the end we are around 15% down compared to last year because the flowering was very good, especially the old vines around the church. So the final yield was not too bad." One other subtle change here is the use of larger 500-litre barrels for around one-quarter of the crop. I find it perplexing that given the large volume of many Bordeaux estates, few have really experimented with alternative-sized barrels, whether cigar-shaped or demi-muids or Stockinger foudres. Not that I anticipate or wish a funeral pyre of traditional barriques, but I just would have expected to see a little more variety by 2017 as a means of controlling the influence of wood onto the wine. Whilst the introduction of new barrels here does not prescribe a superior wine, it just gives them another option in the winery. With respect to the 2017, incidentally raised in 72% new oak, we are looking at a more "athletic" Clinet, the alcohol dialed down a whole degree from the 2016, nicely detailed with a linear and structured finish that is less opulent than recent vintages, yet I feel it successfully translates the style of the vintage in Pomerol. Clinet often puts on more weight during its élevage and so I look forward to re-tasting this once in bottle.
At La Conseillante, I was standing on the upper gallery of the vat-room with Valmy Nicolas, looking down on what looked like 90% of en primeur attendees crammed inside. "Yours is the only place where you can get a free lunch on the Right Bank," I informed. "So everyone plans their own itinerary, the only thing in common, La Conseillante at lunchtime." I include myself in that number. A man has to eat and you might as well eat with large formats of La Conseillante flying around (though I don't partake – I just drink water at lunchtimes. I just need victuals to keep me going). The hubbub below is indicative of a château whose profile has raised considerably in recent years, not least thanks to the ambitious Nicolas but also winemaker Marielle Cazaux, who joined in 2015. We chatted together a few days earlier when it was peace and quiet. I began by enquiring about the "f-word". "We had a little frost on the border of the vines, around 15% of the vineyard," she revealed. "On the plateau we were not affected as we fought with valerian the day before, and during the night we used candles and then a helicopter to mix the warmest air with the cooler air underneath. It increased the temperature by 2° Celsius. We used it for around 90 minutes around sunrise, the coldest time of the day. We had flowering at the end of May and véraison around 25 July. It was a dry season but not as warm as 2016 since July was slightly cooler. The biggest difference was September. On 9 September there was 30mm of rain but we started picking the Merlot from 5 September. The Merlot on clay was not completely ripe, so the harvest was postponed until 14 September to make it a little drier. We then picked until 22 September for the Merlot while the Cabernet Franc was picked on 29 September. We used a density machine [Tribaie] during sorting that was quite efficient. We picked four barrels of second-generation fruit and we wondered what we can do. We de-stemmed it and put it directly into barrel however it is too dilute so we will sell it in bulk. For the Grand Vin, the wine is concentrated and has sufficient fruit to mature the wine in 70% new oak. The malolactics were quick since we do not use SO2 and so this oak is already nicely integrated."
As I had a bit of time during my first visit, I tasted the separate components per grape variety and soil type, finding that the Merlot on clay showed more freshness than the Merlot on gravel. More relevant to readers is the final blend. There is slightly less contribution by the Cabernet Franc this year due to frost-damage affecting four or five rows. Now just keep that figure in mind for a moment and consider that its neighbor, Cheval Blanc that suffered two-thirds of frost-damage and you can see how effective the candles, wind-turbines and most of all, the helicopter were in alleviating the damage. The 2017 La Conseillante offers that classic truffle-tinged bouquet, a little more introspective than the 2015 and 2016 but the palate demonstrates palpable energy and I was surprised to find that at least at this early stage, the Cabernet Franc was quite expressive, maybe making up for the shortfall with intensity. It is a worthy follow-up to the 2016 and frankly, not that far off in terms of quality.
I always conduct a small tasting with Jean-Baptiste Bourotte at Clos du Clocher on the fringe of Catusseau (just behind the solitary hairdresser in case you need a cut during tastings). Not only does he oversee his own Pomerol crus, but also runs the négociant J-M Audy, which gives him a fresh perspective on the market for Bordeaux in general. "I was completely touched in Lussac and in Lalande-de-Pomerol," he told me, which means no Les Hauts-Conseillants or du Courlat were shown. "But Clos du Clocher was fine. There is one parcel in Monregard La Croix that was hit by frost and not picked, so that comes only from to middle parcels. The parcels in Bonalgue were fine, just those that go into the deuxième vin were touched." Clos du Clocher is a Pomerol cru that enjoys a central location on the plateau and over the last decade has yielded some exemplary wines that deserve a higher reputation. The 2017 Clos du Clocher is another fine wine in the making that might well offer great value vis-à-vis its peers. It does not possess great flair or profundity and perhaps that is why its name is rarely uttered in the same breath as say, Vieux Château Certan or Clinet, yet from experience (to wit, a fabulous 2009 Clos du Clocher poured later that day), it does really blossom with bottle age.
Catching Denis Durantou mid-flow at L'Eglise-Clinet, here during a vertical that followed my second visit
I made two trips to see Denis Durantou at Château L'Eglise-Clinet this year, both on rare sunny days. One was to participate in a vertical alongside some chap called Antonio Galloni back to 1954. Verticals of this Pomerol are always enlightening exercises because this wine demands bottle maturity. It often really shows what it is capable of only after 10 years in bottle. Denis Durantou was accompanied by his long-serving wingman, Olivier Gautrat and the new generation waiting in the wings, his second daughter, Noémie, who conducted her first harvest. Before settling down to taste through his wines, as usual I had a brief look at his wife, Marie Reilhac's artwork, perhaps her best vintage ever. I would have bought one myself had I had the means to transport back to England safely. Denis' headline on his technical sheet was "A rare triplet for Bordeaux", a reference to the quality of the 2017s that were not affected by the frost, following on from 2015 and 2016. His La Chenade in Lalande de Pomerol was hit by frost like much of the commune, prompting Durantou to buy a wind fan. In total he lost around 3.5-hectares, including one small plot near the Barbanne tributary that goes into the deuxième vin. "In my opinion it is better than 2014 because of the quality of the tannins. The 2017s are slightly riper with better acidity. There is also a little less alcohol than in 2014, more layered in terms of complexity with silky texture. We had a better control of the temperature during fermentation this year: nothing more than 26° Celsius in the cap and we also did less remontage." As usual, Durantou excels with his wines from outside Pomerol and this year I was really taken by his Castillon Côte de Bordeaux, Montlandrie. They are consistently sold at prices that offer great value and from what I hear, fly off the shelves as soon as they are released. I completely understand why. Coming back to Pomerol, the 2017 l'Eglise-Clinet is clearly one of the standouts even if it needs time to really unfurl in the glass. Anyone rushing this wine, expecting the sample to burst open, will be disappointed – it is always a Pomerol that checks you out first to see if you are worthy. Maybe I took Denis Durantou's headline with a pinch of salt upon first reading it. Really? As good as the 2015 and 2016? Then after tasting the wine, he has a valid claim. It is up there with the very best.
The Batman and Robin of Lafleur, Baptiste Guinaudeau and Omri Ram, were on hand to guide me through the latest releases from the Guinaudeau family that include wines from outside the appellation: Grand Village, their "Acte" series and Les Champs Libres. "There was nothing touched by frost at Lafleur," Baptiste explains. "We used fans and candles and it was the candles that were most effective. We bought a wind turbine anyway since you can use it just before the harvest to ward against botrytis." Baptiste Guinaudeau then proposed an idea with regard to the long-term effects of frost. "We discovered that you [the vines] were not either green or black after the frost. There is "grey". That means you are touched but you don't see it. There was something weird with those "grey" vines, for example, the flowering might not be perfect or, they grow in a strange way. Physiologically, the vines are not right. So, very early on, we decided not to work with any vines that had been touched by frost and it was clear to us that we could not use the second-generation grapes. We pruned everything until the end of June to ensure that we could work normally in 2018, so that we will have good wood for pruning the following year. We used eight people to do that." I then asked Guinaudeau about the climatic aspects of the growing season outside of the frost. "Generally, 2017 is an early, warm and dry vintage. On 20 June we had more hydric stress than in 2011 and in July and August we had just 35mm of rain. We harvested the Merlot at the end of the summer cycle, from 8 to 12 September for Lafleur, then there were a few days of changeable weather after which we picked the Cabernet Franc on 28 and 29 September. Looking at three measurements together, the weight per berry, the malic acid (at 1gm/L) and water stress, you can easily classify 2017 as a great vintage." The 2017 Lafleur and Pensées de Lafleur (Baptiste pains to stress that it is not a second wine but another cuvée) are both impressive wines. Like l'Eglise-Clinet they demand patience at this early stage and oblige more coaxing than their peers. However after 15 minutes the bouquet on the Lafleur blossomed and took your breath away, offering a brief glimpse of what one of the standouts wines of the vintage will become when it reaches its peak.
Olivier Berrouet at Petrus. And a mystery hand.
I forgot to book an appointment at Pétrus this year and only realized as I embarked upon my Right Bank tour and noticed the omission. I compensated by making two visits and glad I did so since the first visit did reveal a sample that "sung" of Pétrus. It was only my second visit in mid-April where I found the Pétrus that I know and love. "It was a strange year," Olivier Berrouet explained. "There was a big frost that we avoided thanks to the topography and the wind turbines that increased the temperature by 2° Celsius. We had 100mm of rain in June and then there was a long drought with around one-third of the regular rainfall. Then there was some rain in early September, just 15mm, that helped the old vines to restart the cycle and finish the maturation. The difficulty was to find the ripeness for each block so we spread the harvest from 8 to 28 September, starting with the young vines as those blocks were done, even after the rain. Afterwards, we stopped and then started again with the old blocks. We cropped at 35hl/ha. The perception of the maturity was strange because the numbers suggested the fruit was ripe but we were not happy with the tannins and aromas. So you had to wait until you perceived perfect maturity by tasting the grapes and juice. Sometimes when you pressed the skins you saw it was not perfectly ripe. So, that is why we waited until the last moment without obtaining over-maturity or green taste. We had to be patient but we had to be quick. The size of the berry was small, just 1.1gm instead of 1.4 or 1.5gm so tannin potential was high. Therefore, at the start of the vinification, we did some pumping over for four or five days, then stopped and just wetted the cap. That resulted in a longer maceration period but we were moving less wine. The alcohol was high like in 2015 at around 14.7°. It is matured in 50% new oak and the rest almost two-years old. I think it is an original in terms of aromas, especially for its floral notes."
Whenever I visit Pétrus during en primeur I put the history, reputation, price and the sheer affability of Olivier Berrouet to one side, examine the wine in the glass and judge not only its perceived attributes, but where it might stand within the pantheon of other vintages. What do you expect from such a wine? First and foremost it must be identifiable as Pétrus however, initially it came across a little Saint-Émilion-like in style. Returning a few days later, not unlike Pontet-Canet in Pauillac, I encountered a different wine, one that had "woken up" in the previous days, become more linear and gained backbone. As I remarked to Berrouet, this was a more "serious" Pétrus, which is what I am looking for at this stage. There is part of me that desires more modest alcohol levels. Pétrus was long regarded as a relatively early-picked Pomerol, the antithesis of the late-picked Right Banks, once all the rage. The harvest dates are no later than its peers, therefore it might be a combination of its unique terroir (smectite clay) and vineyard husbandry that impels the team to wait for full ripeness, but in doing so, accepting higher alcohol levels than before. That said though, I would not rank it in the admittedly crowded top-tier of wines from the estate, it is a wonderful Pomerol and...phew...reassuringly "Pétrus".
I made two visits to Vieux Château Certan to see Alexandre and Guilhaume Thienpont, partly because I endeavor to obtain two readings during en primeur and partly because I liked the wine so much the first time that I wanted to taste it again. "We were not touched by the frost," Alexandre Thienpont explained. "I saw the frost coming on my car, but it didn't turn white, so I knew we would be O.K. If you pruned early than it accelerated the growing cycle in the season. We picked in three passages through the vineyard, commencing with the young Merlot vines, then the older Merlot and finally the Cabernets. Now we work within each parcel to pick at the right time, so we might go into the same plot two or three times. It was one of the earlier pickings in the last 20 years but the wine has amazing color with great freshness." Readers will know that for this writer, a great "VCC" will contain a proportion of Cabernet Franc and Cabernet Sauvignon. Twenty percent or thereabouts and I'm a happy man. It is the alchemy between the varieties that makes VCC so special, mainly with bottle age. So given there is 19% in the 2017, it delivers just what I am looking for. It is a complex and cerebral Pomerol, but what really struck me on both tastings is the enthralling precision and detail on the finish. It is a masterclass in eschewing power and delivering a discrete intensity and frankly, few wines in the entire world have mastered this like Vieux Château Certan, as attested by the litany of spellbinding wines from the 1940s up to the present day. Yeah – it's a great wine. I also tasted Le Pin on two occasions, once next to Vieux Château Certan, always a fascinating comparison. I am on record as stating that Vieux Château Certan is more my personal style, a more cerebral Pomerol not least due to the combination of grape varieties. On the other hand, I have been smitten by recent vintages made by Jacques Thienpont. There is purity and tension embroidered into the wines and the 2017 seduces by its silky texture and length. Like Pétrus, it seemed to develop more backbone between first and second showing. It will appeal to those with a penchant for opulence in their Pomerols, but do not wish to stint on sophistication.
I always try to expand my itinerary as much as possible during my trip. I had time to visit a newest kid on the (Pomerol) block – La Séraphine. Formerly known as Montbrun, the land was purchased by Martin Krajewski a few months ago, known for his commercially successful wine Château de Sours that he has since sold. Unfortunately the strikes meant he could not meet me at the winery that is still being built opposite the rather ugly looking sports ground towards the western side of Pomerol. His daughter Charlotte Krajewski, known as "Lolly" according to my spies, will be managing the growth, having previously made wine in New Zealand. It was a thoroughly decent debut, a case of no-expense-spared winemaking ably compensating for any shortcomings in terroir. It's worth keeping a look out for this in the future. There are one or two other properties on the lesser terroirs worth investigating such as Clos René, but otherwise many of the wines felt lean and lacked substance.
Read All the Reviews from Pomerol

---
1) Saint-Émilion turns a page with increasing numbers of more terroir-driven, refined wines.
2) Despite vast tracts on the plane being damaged by frost, the Merlot on limestone soils, generally those that escaped frost-damage did very well. Those that were hit by frost produced weaker, slightly greener wines, especially where second-generation fruit was blended.vine
3) Plenty of red fruit, crisp acidity with delineated finishes.
Bordeaux tends to move on quickly and not look back. It says to itself: "That's done. Where next?" Nothing epitomizes that more than the current tectonic shift in Saint-Émilion, the collective reassessment of what Saint-Émilion is and what it aspires towards. Until recently there seemed to be an unwritten "recipe" that a Saint-Émilion vigneron was advised to follow, resulting in a raft of formulaic wines. It has now "woken up" with newfound self-determination to create the wine that each individual winemaker wants to make. As simple as that. Look at the change in tack from Pavie, Canon, Figeac, Angélus, Barde-Haut, Clos de Sarpe or Le Dôme, to name but a few off the top of my head, all diverse in terms of style, yet sharing a common goal in pursuit of their individual vision. The result is not a sea change from one style to another, though there is unequivocally a movement away from the super low-yield, late-picked, 100% new oak wines that dominated in the past. It's more a burgeoning of different styles for consumers with different tastes. More focus on terroir expression, more prudence in the winery and greater focus on something as banal but fundamental as drinkability. Behind the scenes, there are changes in proprietors, changes in estate managers and changes in consultants. So let us commence with a château that has not only enacted all that, but practically did it overnight.
Newly installed estate manager Aymeric de Gironde at Troplong Mondot
The last time I saw Aymeric de Gironde was up in Saint-Estèphe at Cos d'Estournel, when I was maintaining my poker face as the 2016 blew me away. Twelve months later, I did not expect to see him at Troplong-Mondot. But as I said, Bordeaux moves fast these days and his was just one of a number of personnel changes in the Bordeaux merry-go-round. He certainly seemed a happy chap in his new role. On the day I visited, he was busy blowing up balloons for that evening's soirée for négociants before it closes to commence refurbishment. "I was here on the first day of the harvest. That was my first day," de Gironde told me, putting the finishing touches to one of those long sausage balloons that takes an entire afternoon to blow up. "I came a few weeks before visiting the vineyard and I felt it was important that we start quite early. So we began the picking on 18 September and cropped at 40hl/ha. Fortunately we had not suffered frost damage apart from a tiny part towards the north where there is a cool wind. That may be a week before what might have normally done."
It is evident that Aymeric de Gironde was not appointed to maintain the status quo.
"I want a few things to be different. I think we have one of the most unique terroirs in the area because we occupy one of the highest points. There is a circle that consists of non-eroded clay and large stones with flint. This is rather unique. Then there is the terroir on the outside of the estate where you have limestone and several layers of clay. When I looked at the map, we have one of the most heterogeneous terroirs in the area, so it was important for me to decide in terms of picking, how we exploit each of these different areas. So we push it to the extreme but have a very non-intrusive vinification in terms of remontage and oxygen ingress, to work on the aromatic precision of each parcel so that they differ from each other. Then we work on the blending, which is where the complexity comes from. The idea is to have fresh clean aromatics. The power is already there and it is not necessary to exaggerate it, you don't have to force anything. I am looking for a contained power. We have hired Thomas Duclot as a consultant. In the future we will be doing the malolactic in tank instead of barrel, brought in three new barrel makers to have more variety and reduced the amount of new oak to around 65% instead of 90 to 100%."
The result is a Troplong Mondot cut from a different cloth to previous vintages. Same pattern – different feel. I have criticized recent vintages of Troplong Mondot because frankly, when the scales tip 16 percent alcohol, then to use de Gironde's own vernacular, you are just exaggerating what you already have, glossing over attributes with otiose winemaking. And credit to former own Xavier Pariente. He always took my occasional battering in good spirit and you know, deep down I think he knew I was making a valid point. Troplong will always be dear to my heart because it was the first château I ever dined at back in 1997 with the late Christine Vallette. And in a way, I felt that it has never quite discovered what it is, what it can be and consequently pandered to fashion. That will not be the case under Aymeric de Gironde. He told me that the owners have essentially given him Carte Blanche to refashion Troplong Mondot and have little doubt it will become one of the top Saint-Émilions within a decade. The 2017 is a great start. It's not the best wine they will ever produce; yet it is a clear statement that a new chapter has opened. And with that, I let Aymeric de Gironde continue blowing up his balloons. He only had another 200 to go.
What a great picture. At the proverbial coal face picking the bunches at Angélus in 2017.
"The year started very quickly with the growing of the vines," Hubert de Boüard told me during the first of what turned out to be three visits to the property. "During the frost, things slowed down. We were not affected too much. On the non-classified blocks, 15-hectares that go into the Deuxième Vin were badly affected, as they are lower in altitude. Also five-hectares in the direction of Figeac was wiped out. We were worried that the frost would be terrible, but it was not as bad as we predicted, so in the end we produced 85,000 bottles instead of the usual 95-100,000. Anyway, if the growing cycle had not slowed down we would have picked at the end of August, with high sugar and low acidity, so this cold period was beneficial. The summer was not too hot so we could keep the acidity. When we picked, the pH for the Merlot was 3.5 to 3.6 and for Cabernet Franc was around 3.5 although, we have not analyzed the final blend. When we went into the vineyard to check the ripeness we could taste a lot of fruit that we wanted to preserve, so during the vinification we worked with lower temperatures and were more careful with extraction. We extracted in the first half of the fermentation and then we stopped in order to keep the balance with the fruit and the freshness. The structure was more linear than broad, the tannins quite soft, the IPT around 85 in the tank. We started picking 13 September and finished the end of the first week in October. For Carillon d'Angélus, it is partly aged in tank (around 30%) and part in oak (50% new) since we wanted to give it its own style and identity. It is a wine made to be drinkable sooner. The Grand Vin is 100% aged in new oak using barrels dried for three or four years and charred at a lower temperature. The samples are an approximation of the final blend that will be done after a year." This was a very well crafted, quite delicious Angélus. Even friends who are usually sniffy about Angélus commented how impressed they were by this wine, so when you are appealing to cynics you know you have done well. I found that the Angélus has the density that is missing in many of its peers, all without compromising the detail and complexity. As such, I wager that it has greater ageing potential than many of its peers.
Pauline Vauthier in the tasting room at Ausone
Pauline and Alain Vauthier greeted me on a blissfully sunny morning when the view from Ausone's courtyard is worth one hundred points on its own. Pauline Vauthier was in a chipper mood, despite the fact that in 2017 she oversees a truncated portfolio thanks to Mon. Jacques Frost. "Moulin Saint Georges was 20% touched by the frost although the fruit from these vines were completely sold off," she explained. "This year there is no 2017 Simard and Haut-Simard because they were totally affected by the frost. The other vineyards were not touched at all." I asked Pauline Vauthier how Alain and herself reacted when the frost bit. "On the day of the frost we used candles and a fan that Alain had bought in 1992 after the last frost. These were O.K. for increasing the temperature but in Simard it was -5° Celsius, so it was no use. The fans are the most important and most efficient." I asked if signs of damage were immediately visible. "No. It was not until noon that we began to see the vines go brown and then between two and four o'clock you could really see it. One week later it looked like in winter. In the winery we did the same vinification and extraction as usual, the same pigeage with some délestage." Ausone has a good track record in terms of avoiding frost damage, one of few to have produced a crop in a frost devastated year is the 1956, as readers of my recent article will have read, so 2017 was not going to pose a real threat. It has a sumptuous and Ausone, satin-like in texture with an almost audacious finish given the growing season. It is a pity that quantities are so small and let's face it, prices very expensive, though I would guide Vinous readers to the 2017 La Clotte. This gem of a vineyard tucked on the outskirts of Saint-Émilion village has great potential and I understand Pauline Vauthier's enthusiasm for the 2017.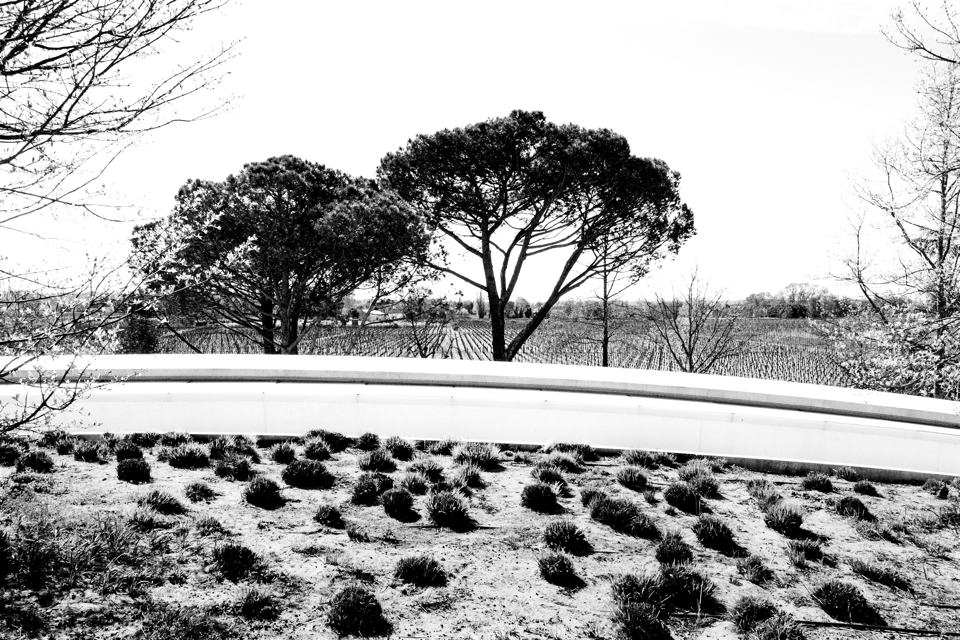 View from the roof at Cheval Blanc, looking over the vineyard towards Pomerol and La Conseillante that was so affected by frost in 2017
I made two visits to Cheval Blanc midway and towards the end of my three weeks in Bordeaux. That is not just because of its reputation, but because it is one of the most fascinating wines of 2017. I was met by Pierre Lurton and Pierre-Olivier Clouet, who described the growing season. "The climatic conditions were simple to understand. It is an early vintage, bud-break early. There was the big frost and Cheval Blanc was affected. Over the two nights we lost between 30% and 35% of the vines so that we will bottle 50,000 compared to 106,000 as we did in 2016. This is because the yield in 2016 was much higher and likewise the percentage that went into Grand Vin last year. These days, we are trying to use more parcels so that they all have the capacity to go into the Grand Vin because they all have the DNA of Cheval Blanc. So to keep the identity we used two-thirds of the vineyard instead of selecting more and more severely. We want to respect who we are and the terroir we own. Except in 2015, all the parcels have contributed towards the Grand Vin."
Before I continue, this is a very interesting approach, one that is contrary to many others who seek to deselect as much of the fruit as possible in order to create a kind of "haut couture" wine. Whilst the intentions might be good (though a cynic might suggest it is to limit supply and increase prices) you can find that the result is a technically perfect, blemish through, almost photo-shopped wine that articulates what the technical director has in mind, instead of a true reflection of how a vineyard translated the vagaries of a growing season. You can see in this report here, how some château lop off swathes of vineyard so that the final blend represents as little as 30% of the acreage. At what point does valid de-selection of less propitious parcels turn into unnecessary or even deleterious manipulation? I guess it depends on the estate however, I for one applaud this philosophy. Now, to continue with 2017...
"It was very dry in July and August that built the tannins in the wine. Thanks to the two weeks of rain in early September it helped the skins evolve. The botrytis started around 10 September so everybody was very anxious, but the cool nighttime temperatures prevented this. We started picking on 6 September, early to capture the delicacy of the Merlot including some Merlot on gravel soil, and finished 11 October in order to have ripe, precise Cabernet."
The startling statistic is that two-thirds of the vineyard was impacted by frost at Cheval Blanc, a large percentage compared to other estates of similar stature. However, that two-thirds that relied on second-generation fruit only contribute 3% of the final blend, ergo the small production. So what you get is a kind of "remixed" version of Cheval Blanc insofar that there is a higher percentage of Cabernet Sauvignon and less Cabernet Franc. It creates a much stricter, linear, what you might describe as "cool" Cheval Blanc that is fascinating to taste. As I mentioned in my note, it is one of the most cerebral wines of the vintage. As a critic, I have to judge what I think is the best and so would I count the 2017 amongst the best of some 50-odd vintages that I have tasted? No. I miss the Cabernet Franc. More accurately, I miss the marriage of Cabernet Franc with Merlot that makes Cheval Blanc one of my favorite wines in the world. That sentiment is reflected in my cold-hearted score. However, truth is, if in 10 or 20 years you asked me which 2017 I would like to revisit, then it would probably be Cheval Blanc. It's just a shame that cannot be reflected or factored into my score.
Just a wonderful photo of Marie-France Manoncourt, taken at the resurgent Figeac at a dinner do in the soon-to-be demolished winery
During en primeur week, a special dinner was held in the original barrel cellar at Figeac, the final time it will be used before it is demolished to create a brand new, much large facility that will thrust Figeac into the 21st century. Fortunately, examining the 3-D model of the plans, the maison where Marie-France Manoncourt still lives will not be changed and it will enjoy a splendid garden out the front. But there is a practical need. Conditions are rather cramped at Figeac and the barrels still have to be layered three or four tiers high in an abundant vintage. They plan to have everything ready for the 2019 harvest...good luck with that! In the meantime, there is the 2017 vintage to contend with. Two astonishing performances in 2015 and 2016, vintages that returned Figeac to the top echelons of Saint-Émilion, were always going to be difficult to match, not least because its vines were located in the direct firing line of frost damage that extended down from Cheval Blanc.
"We used the helicopter during the frost," estate manager Frédéric Faye told me when I made an impromptu visit. He was not the only one – see also Pavie and La Conseillante. "The main problem was the wind. It was zero degrees but the feeling was -5° Celsius because of the wind which is why the frost was in the middle [of the vineyard]. We had three nights of frost and afterwards it was important to clean the vineyard. It had especially affected the Cabernet Franc as some of the vines are planted in the lower parts. We also used a drone to look at the vineyard and help us mark individual vines touched by the frost. Around 20,000 vines were marked, around 4-hectares, which helped during the harvest. May and June were great and there was a lot of growth. It was perfect for the Cabernet Sauvignon. We harvested some parcels two or three times. Jean-Pierre Romain, our technical director, had never tasted so many vines. The second-generation fruit was used, and it was picked around two weeks later than the first generation, vinified separately in stainless steel vats. We had to check every vat before blending with the first generation vats. In the end there is 10% second-generation fruit in the Grand Vin and the total production is around 4,000 cases instead of 10,000 on average." The 2017, tasted on three or four occasions, showed extremely well considering the traumatic episode in April. That event curtailed any expectations of matching the previous vintage and my score reflects this, but the judicious use of second-generation fruit seems to have paid dividends. It might not be imbued with the structure and concentration, the profundity of the 2016 but it is certainly a worthy follow-up.
At Château Pavie, they also escaped the worst of the late April frost. "Some of our wines were not affected by the frost: Pavie, Pavie-Decesse, Bellevue-Mondotte and Clos des Lunelles," estate manager Philippe Develey told me. "Those in the lower side were affected such as Monbousquet and even here, some parcels were affected more than others. We used a helicopter to protect the vines, which worked very well on the first day, less so on the second. It just wasn't enough. We did not use any second-generation fruit, which is hard because you have to keep going into the vineyard to select. We cut off the second generation fruit before the harvest because you cannot rely totally on the pickers to choose what to pick and what to leave." As I have written previously, there is a revision of approach at Pavie towards a less extracted style of wine. "We did a shorter and softer extraction. Délestage was minimal and pigeage was done two times at the beginning of the fermentation. In the past we would do 7-week maceration and now it is two weeks less. The idea is to have less structured, fruitier and more balanced wines with a better expression of the terroir. We started the harvest on 25 September for Pavie and finished 3 October. We might have finished 8 or 9 October in the past. We will do the final blend at the end of the barrel maturation." Pavie is a wine that has completely reassessed its modus operandi in the last three or four years. Just by reading this paragraph, it is clear that the blockbusters that grabbed headlines and caused such Manichean opinions i.e. you were either for or against Pavie, have been consigned to the past. Interestingly, whilst this shift is evident in Pavie, I still find the likes of Bellevue-Mondotte and sometimes Pavie-Decesse just a tad overblown. I am still waiting for the primeur where I can see a united shift in a more refined direction. On the other hand, why not create a style for different palates?
Hélène Garçin-Léveque and her husband Patrice suffered like many other due to frost at Barde-Haut, even though they had the services of photographer Johan Berglund running through the vines lighting candles. "There will be no Château d'Arcée because it was completely frozen," she tells me. "The weather conditions were great. The vines were beginning to suffer at the end of August, but the vines on calcaire soils suffered much less. In 2017 you can find more difference between the terroir. During the vinification there is no SO2 addition until after malolactic. We are trying to find more elegant tannins and undertake a lighter extraction." There is always a little competition between their Pomerol and Saint-Émilion estates, Clos l'Eglise and Barde-Haut respectively. I know that Patrice will disagree but for me, he nailed it with a superb Barde-Haut this year. It is a more restrained, terroir-driven wine compared to those of yore, almost like a honed down version of nearby Tertre-Rôteboeuf.
Readers will know how much I admire the work that has been done at Château Canon. Since I have tasted Bordeaux professionally from the end of the 1990s, it was always the château waiting for its time to come. It always possessed exceptional terroir but it needed investment in the winery and a change in attitude. That came from the tireless work of former estate manager John Kolasa who turned a slightly woebegone estate into a strong performer. Now Nicolas Audebert and Stéphane Bonnasse continue that work. The 2015 and 2016 Canon were truly exceptional, raising the bar to the highest level. It would be difficult for the 2017 to match those twin titans. The growing season was more challenging even if there was negligible frost damage; only 300 vines touched on the plateau and not blended. Tasted on three or four occasions, including at the property, it is a strong and capable Saint-Émilion within the context of the growing season. You can either see it negatively as a "come down" from the heights of the previous two vintages but instead, it is a test of mettle to gauge how it performs in a trickier vintage and on the evidence here, it remains one of the finest within Saint-Émilions.
I visited Canon-la-Gaffelière during UGC week to taste through the range and tasted the wines on three or four occasions elsewhere. I spoke to Comte Stephan von Neipperg about the challenges of the 2017 vintage. "Clos de l'Oratoire, d'Aiguilhe and Canon la Gaffelière were all harvested quite early on 17 and 18 September and then we restarted about 7 to 12 October for the second generation fruit. We worked a lot in the vineyard in terms of taking out the leaves [to improve air circulation and encourage ripeness.] The second-generation fruit was more harmonious and fuller and there was no third generation. We are one of the few people that played with the second generation although we took out some on the sorting table. We don't have the tannins or body of the 2015 but perhaps 2017 is a 2014-plus. At La Mondotte there was no frost. We were prudent with the extraction. The wines have a good freshness and being organic means we have to take down the copper in the vineyard to around 1kg/ha. But now we are working with teas and compost. We are also looking at reducing sulfur and there is none in the alcoholic fermentation [similar to Barde-Haut for example]." My job as a critic is to tell it how I see it. I always love meeting with Stephan von Neipperg, one of the real characters of Saint-Émilion and my scores over the last two decades prove how much I admire his wines. However, judging by the samples that I tasted, I am sure that it would have been wiser to just discard the secondary fruit because they do impart a nagging greenness that is absent from others that did not "play". It was a risky move and one that I admire. He who dares wins! Rather, he who dares might win, but in 2017 I suspect that he may look back and wish he had done it differently. To highlight that, the 2017 La Mondotte that was untouched by frost is a marvelous Saint-Émilion, pure and sensual, perhaps demonstrating what its siblings might have been without the secondary fruit. Doubtless they will be back strongly in 2018.
Jonathan Maltus, whose portfolio includes the likes of Le Dôme, Les Asteries, Vieux Château Mazerat amongst others, is someone who has taken a new approach to his wines in recent vintages, now seeking a more refined style, more focus on the vineyard instead of the winery. "There was a lot of frost on the plain and it was not just one day, but for three days running. The lower alcohol levels are a result of obtaining phenolic ripeness at a lower potential alcohol levels. I don't think it is a "shit" seven," he tells me and he's right, 2017 is certainly no 1977 or 1987. It is clear that the wines are less powerful and rich, less alcoholic than just four or five years ago and this has allowed the individuality of his growths to be more evident, even at an early stage. Whilst Le Dôme is his crown jewel, readers should not ignore its excellent Teyssier this year, one of the best "bang for the bucks" you will find in this vintage.
Extracting his latest wine, François Mitjavile dips his pipette into the barrel at Tertre-Rôteboeuf
Saint-Émilion's philosopher in residence, François Mitjavile, oversaw a classic Tertre-Rôteboeuf. It is always a joy to see Mitjavile and tasting in his cellar is always more akin to Burgundy than Bordeaux, pipette dunked directly into barrel rather than pre-prepared samples. François Mitjavile himself has a more Burgundy-like mindset than Bordeaux. "We had no frost at all at Domaine des Cambes, Roc de Cambes and Tertre-Rôteboeuf," he reassured. "I have not tasted any wines except my own, but I say that I know the climate and how the fruit ripened. Whether it was frosted or not, there is coherence in terms of vintage character. Alive and elegant, lace-like beauty – you can see this. Even if it is dense, the danger is that it can sometimes be insufficiently ripe and the gentleness of flavors will hide the unripe structure and the wines will look closed. The trap is that if the color is too black and the freshness can hide the coarseness of the tannin, as a consequence it will not have the ability to mature in bottle." Although Mitjavile could not fathom how his fruit achieved such ripeness given the rain just prior to harvest, the bottom line is that he did and the result is a quintessential Tertre-Rôteboeuf. For those that love this wine, you will adore the 2017 not just here, but also his brilliant Roc de Cambes in Côtes de Bourg.
As the days went by after returning from en primeur, as I trawled through the endless reams of notes from Saint-Émilion, then I began to appreciate the achievements here in 2017. It might even tip the scales towards the Right Bank in terms of the distribution of quality. There is a lot of pleasure to be found – if you know where to look. Beyond the most well known names you will discover some real gems that could offer great value. Saint-Émilion is changing and in my opinion, it is changing for the better.
(One word of caution: remember that the final blends are done later during the élevage and so assemblage figures are often approximations.)
Read All the Reviews from Saint-Émilion

---
In my write-up of Saint-Émilion, I mentioned the mesmeric panorama from Ausone that looks southward over the Saint-Émilion lowlands, the winding Dordogne and beyond, towards Entre-Deux-Mers. It is humbling to contemplate that before your eyes lie so many hectares of vines and livelihoods devastated by the April frost, whereas from this vantage point, hardly a vine was touched. These unknowns will not be visited by journalists during en primeur week, if ever. They just have to get on with their lives as best they can and pray that 2018 is more benevolent.
It is clear that the satellite appellations on the Right Bank were affected by the frost and the divisions were very tangible. Compare, if you like, the successes on the plateau in Pomerol with those frost-devastated vineyards across the Barbanne tributary in Lalande-de-Pomerol. The differences are stark. Consider La Fleur de Boüard where 99% of the vines were damaged and yet Coralie de Boüard told me that she will still produce 1,000 magnums, almost as an act of defiance and why not when the juice inside is worth it. It is not all doom and gloom. Fronsac seemed to do much better than most and it remains the source of some very fine, quite dense and robust wines that traditionally take a little time to come round in bottle. See my notes on Les Trois Croix, Carlmagnus, Dalem and Montlandrie. Plus there are winemakers overseeing small properties on a Burgundy-like scale that could devote care and attention to create very respectable wines such as at Domaine de l'A, Cap de Faugères and Domaine de l'Aurage.
Once again, the question remains as to whether such wines are enticing at en primeur. Fact is that many of the wines here will not be commercially released until they are in bottle or perhaps scooped up by a distributor seeking large volumes. Many will not be blended for another few months so only approximations can be given, more so than on the Left Bank where the blends tend to be earlier. However, it is important to give these communes time and attention, which is why I have always included them in reports and why I will continue to do so.
Read All the Reviews from Right Bank Satellites
---
Read Neal's Coverage of the Left Bank Appellations