Browse using the new Vinous website now. Launch →
Printed by, and for the sole use of . All rights reserved © 2015 Vinous Media
Burgundy Northern Satellites: Irancy & Saint-Bris
BY NEAL MARTIN | AUGUST 21, 2018
France is a country full of interesting wine regions, some globally renowned and others, smaller, less familiar and esoteric. Stop a passer-by in the street and ask if they know "Chablis" and nearly everyone will reply "white wine" and wait for you to give them a glass. Ask if they know "Irancy" and you will probably get a shrug of the shoulders or a "Never heard of her". Irancy and for that matter, Saint-Bris, are like satellite appellations in a stationary orbit around Chablis. It takes little more than 10 or 15 minutes to drive from the centre of Chablis to either village, yet few make the journey or endeavor to taste the wines. But as prices in the Côte d'Or become increasingly prohibitive, alternatives such as Irancy and Saint-Bris become increasingly worth investigating. Therefore, during my week in Chablis, I organized a blind tasting of Irancy wines with the BIVB and visited a couple of its more reputed vignerons. Instead of lumping them in with my report on Chablis, I chose to keep these producers separate in order to give them well-deserved limelight and not least because, despite their proximity, their wines are totally different to those of Chablis. A third reason is simple. Some of their best wines taste damn good.
Looking down on the sleepy village of Irancy; you can see the vines in front of me but behind me are the cherry orchards
Irancy
Irancy is worth visiting just for the view from its highest contours. Park the car by the side of the road and inhale that soothing sense of nothingness, look up at the wide expanse of sky. Paris might just be "up the road" but it might as well be located in a different world from Irancy, where the only audible sounds are birds and the gentle breeze. Vines populate the amphitheater that looks down upon the village at the bottom, the upper reaches given over to cherry orchards whose fruit is whisked up to supply the capital city. The AOC only came into existence in 1998 – a relatively recent arrival on the Burgundy landscape. AOC rules dictate that there are no Premier Crus in Irancy, although one or two vineyards have gained repute, particularly Les Mazelots and La Palotte. Thierry Richoux showed me a map of the vineyards and put forth that those vineyards bordering the Yonne river, Palotte and Veaupessiot, are the finest although I personally have a lot of time for the fullness imparted by Les Marzelots.
Benoît Cantin in front of his village mural in his tasting room
Irancy shares the Kimmeridgian limestone soils of Chablis. The vineyards facing south offer protection from northerly winds and engender a slightly drier microclimate than Chablis. Of course, the major, obvious difference between Irancy and Chablis is that Irancy is red, almost entirely Pinot Noir although authorities permit up to 10% of César into the blend. This addition is not without its detractors who argue that it demeans the nobler Pinot Noir, whilst others say that it lends a bit of feistiness. How much César is actually contained in blends is not easy to ascertain since it tends to be complanté with the Pinot Noir. Jean-Hugues Goisot is against its inclusion, though to be honest, I find its influence minimal, just occasionally tweaking the Pinot Noir like Gamay does in a Passetoutgrain. There are only around a dozen or so Irancy-based producers who bottle their wine, others are part of the portfolios of growers outside the village, mainly in Chablis. That includes Vincent Dauvissat, whose wine is inexcusably missing from this report because I simply forgot to ask! Next time. You will also find Irancy wines from the likes of Louis Jadot and Faiveley.
Doesn't Thierry Richoux look a dead-ringer for Dustin Hoffman?; A craftsman of great Irancy, Richoux vies with Cantin as the leading producer in the village
The 2016 vintage was severely affected by hail and frost and therefore most tasting notes relate to the excellent 2015 and very promising 2017 vintage. There are two standout producers in Irancy: Benoît Cantin and Thierry Richaux and one in Saint-Bris, Jean-Hugues et Guilhem Goisot.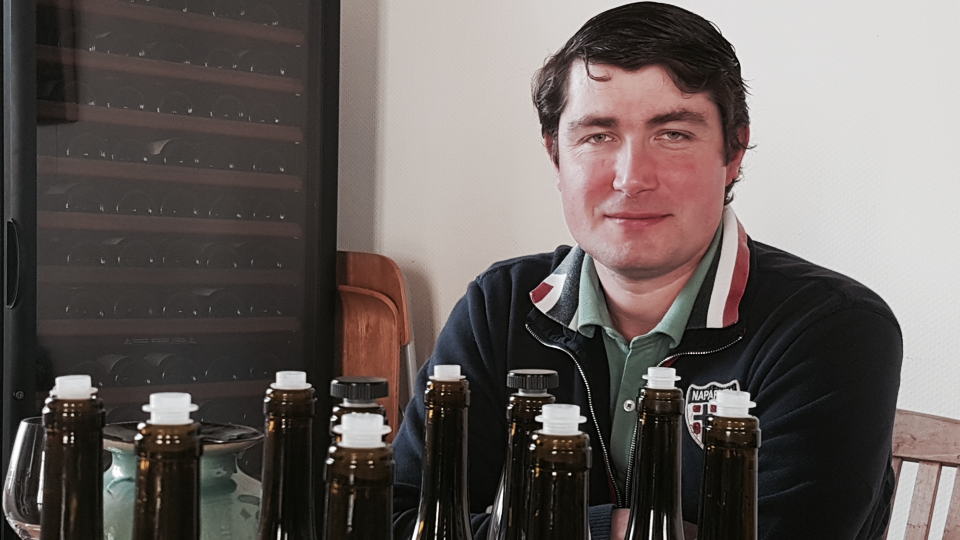 By far the leading grower in Saint-Bris, Guilhem Goisot has endured more than his fair share of misfortune at the hands of Mother Nature but continues to produce some of the region's finest and most distinctive wines
I hope this article encourages readers to look further afield in Burgundy. Granted, Irancy needs two or three more Richouxs and Cantins, while Goisot probably would not mind competition in Saint-Bris. I wager that this will happen over the next few years. Irancy and Saint-Bris are never going to be major players – they are simply too small in size. Yet, these AOCs are what make Burgundy so fascinating, and they add another color to its spectrum. Certainly, going forward I will continue to track these AOCs, whose potential is only just being realized.
You Might Also Enjoy

Mirror Image: 2016 & 2017 Chablis, Neal Martin, August 2018
Burgundy Under the Radar, Neal Martin, July 2018

Red Burgundy 2016 and 2015: Two Terrific but Very Different Vintages, Stephen Tanzer, January 2018

Chablis 2016 & 2015: Quality Over Quantity, Stephen Tanzer, August 2017

The Undiscovered Burgundy, Antonio Galloni, June 2017
Producers in this Article