Browse using the new Vinous website now. Launch →
Printed by, and for the sole use of . All rights reserved © 2015 Vinous Media
2017 Burgundy: A Modern Classic
BY NEAL MARTIN | JANUARY 10, 2019
See the wines by appellation: Beaune | Chambolle-Musigny | Côte de Beaune | Fixin, Marsannay | Gevrey-Chambertin | Morey-St-Denis | Nuits Saint-Georges | Pernand-Vergelesses, Aloxe, Ladoix | Pommard | Volnay | Vosne-Romanée

God sits in His diaphanous robes on the bare, rocky earth, hidden amongst the serried ochre vines looking towards Corton-Charlemagne, when He spots a pair of horns bobbing towards him. Ten more seconds of peace and solitude and then…
"Wotcha, Mr. G!" hollers Satan in a cheery but slightly campy voice that would scupper his reputation as the embodiment of pure evil, if humankind was aware. He sits next to God, leans back on his arms and inhales the view.
"Clear morning. See Mont Blanc silhouetted on the horizon? Beautiful," Satan remarks.
"I know. I made it," God retorts curtly. "One of my better mountains."
"You're grumpy, Mr. G. What's up? Root day? You can tell me."
God looks at him askance. They've had their ups and downs since the Garden of Eden, but his nemesis has always had devilish charm.
"You know, Satan, when I signed up for this job as ruler of the universe, I could choose either a final salary pension or omnipotence. I thought omnipotence might come in handy."
"I chose the pension, Mr. G. Just do my worst, foment evil, lead innocents astray and then retire with a tidy annuity. Look how many political leaders are copying me these days."
God sighs.
"Good for you. Well, I chose omnipotence. It means I can do this…"
A swish of His finger and an entire row of grape bunches turns into bananas.
"Nice one, Mr. G. Keep the bananas. Leave those biodynamic winemakers scratching their heads, wondering if they planted their goat's testicle in the wrong place."
God swishes his finger back the other way and the bananas turn back into grapes, to Satan's chagrin.
"So with this omnipotence, I think to myself, all I want is a nice Burgundy vineyard. Somewhere I can potter about. Yet every time a domaine comes onto the market, I am outbid. Gazumped. Clos des Lambrays, Bonneau du Martray and Clos du Tart… I'm sorting out some major disaster like famine or war or the Master Sommelier exam scandal, then I turn back around and some billionaire has snapped it up."
"Snooze you lose, Mr. G."
"So… I've missed out on vineyards. Fair enough. I'll treat myself to a nice bottle of vino. I bid for some bottles of Henri Jayer at auction."
"Get lucky?"
"Lucky? I got a crumpled supermarket receipt for packet of celery and bin liners that allegedly fell out of Jayer's pocket around 1992. Not exactly a jeroboam of Cros Parantoux, is it. Then I bid on those bottles of 1945 Romanée-Conti. Did you see the price? Half a million euros! The call centre lit up that night, I tell you. As soon as news reached Bordeaux, proprietors were hands clasped and on their knees praying for similar prices next en primeur."
"Why not use a bit of divine intervention?"
"I've used up my quota with Brexit, and fat lot of good that's done. And I had to intervene in the 2017 Burgundy vintage. Mother Nature concocted all manner of meteorological woes. She attempted a repeat of 2016's frost damage. Even chose the same day…"
"So evil. Impressive."
"Fortunately, it wasn't too bad. She couldn't muster the humidity or sufficiently low temperatures. She got bored and it turned out to be a benign season in the end."
"So are the wines any good in 2017? I was thinking of buying some for Mrs. S."
"Well, Mr. S, you had better read on…"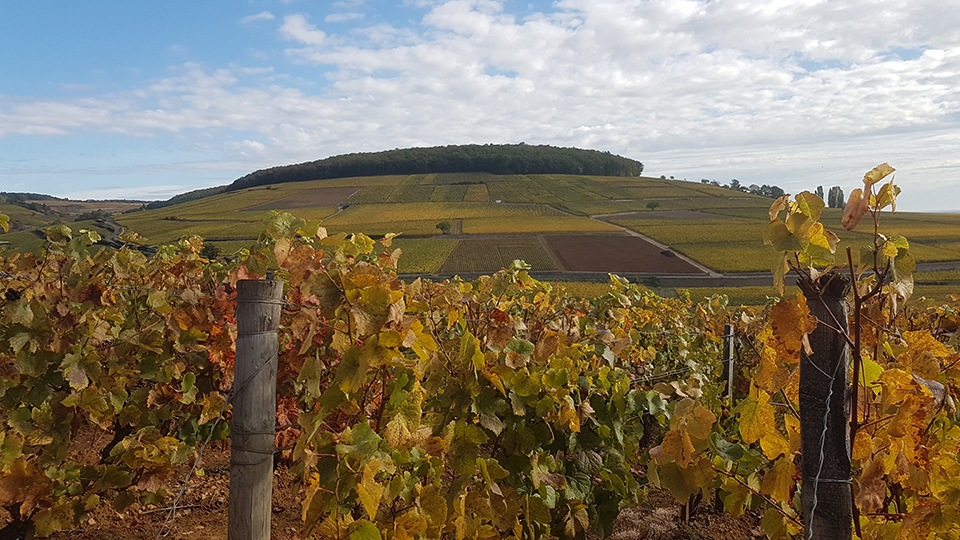 Vineyards in Corton-Charlemagne

The Growing Season
In 2017… nothing happened.
Excuse my glibness. Of course, something happened, but not much. It was not 2016's stomach-clenching roller coaster ride with its nail-biting episodes of frost and rearguard action against mildew or drought. There are no twisting plot lines or contradicting theories explaining why this or that happened. Alec Seysses at Dujac described the growing season as "boring," only half in jest. Winemakers praying for a less stressful, benign and preferably abundant vintage had their prayers answered. And boy, did they need it. After successive depleted seasons dragged some growers to the brink of financial ruin, 2017 was their return to some sense of normality. Imagine Burgundy vignerons freewheeling down a gentle slope on their bicycles, legs outstretched in a perfect V. That is how 2017 felt: enjoyable and stress-free, a vintage that serves as one huge sense of relief.
Let us wind the clocks back to the end of the 2015/2016 growing season, since the events of the previous 12 months are critical. In the aftermath of 2016, vines are recovering like wounded soldiers, having endured widespread frost and disease pressure. Vines tend to worry. They are pessimistic. They are concerned that the travails of 2017 could be repeated, so they plan to produce lots of bunches to ensure survival. Winter turns out cool and dry, Drouhin-Laroze reporting a deficit of around 75mm in Gevrey-Chambertin. December is cold but there is no snow. A cold snap in January allows vines to switch off and recharge their batteries, as well as killing off bugs and microbes. February and March start to see things warm up; in fact, 2°C warmer than average, prompting an early bud-burst around March 20 that passes quickly and easily. Subsequently, temperatures shoot up to around 25°C, thereby accelerating the cycle and encouraging growth.
The early and rapid growth cycle kindles concern about a repeat of the frost damage of 2016, and we all know that apart from The Godfather, sequels are worse than originals. As if scripted, towards the end of April when four or five leaves have unfurled, temperatures plummet close to freezing. This cold snap causes frost damage on April 18 and 19 in Chablis, and the Côte d'Or fears the worst, since the precursors of more heartache are in situ. Almost exactly a year to the day, frost risk heightens on April 27 and 29 as night temperatures languish below freezing.
Fortunately, two or three factors provide a lucky escape. Firstly, the temperatures are not quite as low as in 2016, and there is a big difference between -1/-2°C and -6°/-8°C, which is so cold that any remedial action is futile. Secondly, the atmosphere is less humid than the previous year, precipitating less frost formation. Third, there is a light but important wind, and air keeps circulating. The fourth factor is human. Unlike in 2016, winemakers are prepared. Many, like Arnaud Mortet, Véronique Drouhin, Jean-Michel Chartron and Jean-Louis Trapet, speak of solidarity between winemakers. Where available, wind turbines are switched on and candles lit. It sounds crude, like a lost scene from The Wicker Man, but burning hay bales for a vital 30 to 60 minutes the following morning enables smoke to successfully obscure the sunlight that burned nascent buds exactly 12 months earlier. Some growers used the phrase "fire war." Several reported that palls of smoke made driving conditions hazardous, which may persuade local authorities to ban this practice. Thing is, it seems to have worked.
Arnaud Mortet, one of the Gevrey-based winemakers who sounded the frost klaxon, rallied the troops and helped coordinate the burning of hay bales to obscure sunlight.
Disaster avoided, May sees the vegetative cycle lag three weeks behind normal, though a burst of warm weather in the last 10 days whips up the tempo so that by May 20, Drouhin reports 10 leaves already unfurled. Flowering commences at the end of May and passes quickly and evenly, mostly finishing within a week. Despite just a couple of showers, there is little millerandage or coulure and vines that suffered frost damage in 2016 overproduce bunches.
By June 20, bunches are beginning to close. Warm, dry weather prevails. There is a splatter of rain in July, much needed given the lack of rainfall during the previous winter. The only minor skirmish is hail on July 10 that affects Monts Luisants and the upper reaches of Clos de la Roche in Morey-Saint-Denis, though it is very local. Now vineyard managers must address the potentially high yields as the vines' branches begin to weigh heavy with fruit. Growers such as Louis-Michel Liger-Belair are adamant that you have to conduct a green harvest, lest you risk excessive crops and, to quote Liger-Belair himself, "ripe but dilute wine." (Michel Mallard told me that they did two green harvests at Domaine d'Eugénie, at the ends of July and August.) Of course, some domaines look down on the practice, preferring to prune hard earlier in the season. However, you might be less inclined to do that after the frost-affected 2016. At least by green harvesting you can be more confident of final yield and even out the load across your vines.
Bunches galore! I snapped this a few days prior to the 2017 harvest. I will not divulge the exact vineyard, but it is a famous Grand Cru.
August continues warm and dry, though without heat spikes that would have precipitated higher sugar levels; there are only 20 days between May and August when the thermometer exceeds 30°C. Véraison is completed by August 10. At Domaine de la Romanée-Conti, vineyard manager Nicolas Jacob reports that some vine shoots are growing 10cm per day. Elsewhere, vines begin suffering hydric stress and in some appellations rainfall is 200mm below normal. Fortunately, 20mm of rain on August 23 and 25 is sufficient to quench the vines' thirst but not enough to dilute the imminent harvest. Julie Gros at Domaine Anne Gros reckons it gifts winemakers an extra barrel per cuvée. Who says it never rains money?
The Harvest
Many winemakers' analysis readings indicate that they can start picking the reds at the end of August; however, the consensus is that the fruit has not reached phenolic ripeness and requires a few days' extra hang time. Much of the white crop begins to be picked at the end of August. Many reds start to be picked around September 3 or 4, some of the later pickers commencing around five days later. The forecast is for rain that expedites the picking for some domaines, and indeed, there are showers the following weekend and sporadically thereafter, though not enough to derail the harvest or seriously impact quality. Details of exact dates are presented in the producer profiles, along with the equally important duration of harvest, which is relatively quick. For example, Sébastian Cathiard completes his picking in just three days. The dry season creates excellent sanitary conditions, and little if any sorting is necessary.
Blue skies, topless harvesters that have not gone AWOL and trailers full of grapes. This image probably sums up the 2017 harvest better than words. I snapped this photograph around Montrachet in the middle of the white harvest.
One factor rarely mentioned in reports and yet fundamental to quality is this: Can you recruit sufficient numbers of good pickers? Picking teams must be in the right place at the right moment: easier said than done, especially in a harvest with large volumes. In 2017, I know of several Burgundy growers who faced the imbroglio of insufficient hands to harvest, and found that some hires are more interested in partying than picking, or simply vanish in the night; bored of the arduous work, they pack their rucksack and leave. The following morning, the vineyard is yelling: "Pick! Pick! Pick!" Cue frantic phone calls and growers pleading to borrow willing hands from neighbours, or forced to delay.
Vinification
The vinification is very straightforward simply because the growing season has been so benign. Some growers feel it necessary to cool the must down in order to prolong the alcoholic fermentation, chaptalizing a little in order to extend it towards the end, most adding 0.5 degrees alcohol or less, and many none at all. Though growers are less inclined to discuss the matter, there is hardly any of the acidification that was more widespread in 2018.
Of course, whole bunch fermentation is all the rage nowadays, with many domaines wholeheartedly embracing les raffles when nary a stem entered their vat previously. Compare, for example, Charles Lachaux's 2017s to his father's a decade ago – completely different, partly due to stem addition. There is even a vendange entière backlash. A couple of growers privately disparaged it as a fad. In my opinion, whole bunch use has indeed become a fashionable practice. The best winemakers do not add stems by rote, instead carefully judging stem lignification throughout the season and making impromptu decisions about how much to add come harvest. The exceptions are those like Lalou Bize-Leroy who have used stems quite brilliantly for decades and laboriously cut out the main stem (incidentally, I will broach this technique in a forthcoming piece on Vinous.) At Grivot, they de-stem, but then add uncrushed berries that replicate the effect of stems.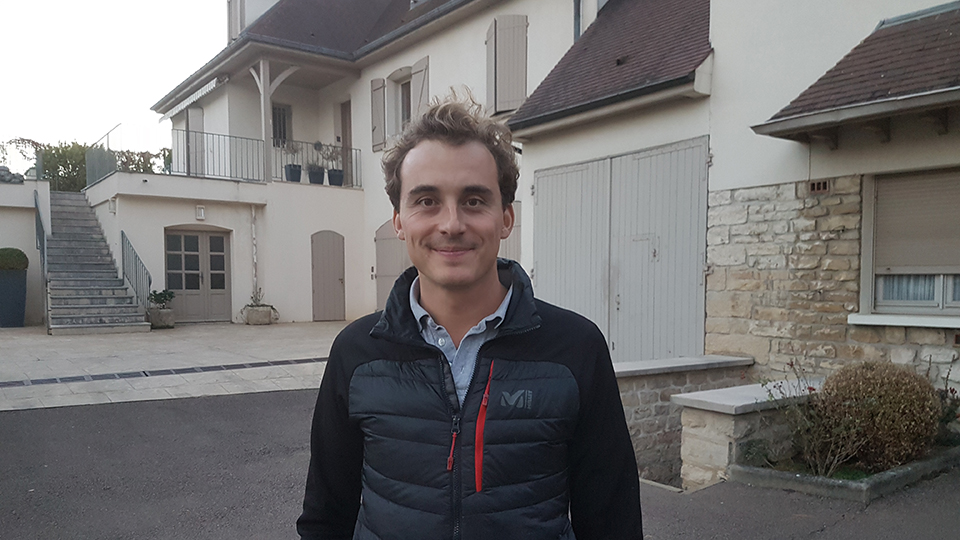 Charles Lachaux, a disciple of Lalou Bize-Leroy, who has completely changed the style of winemaking at Domaine Arnoux-Lachaux.
Barrel maturation seems no different from other years. One trend parallel to whole bunch is minimal SO2 addition, many, like d'Eugénie or Heresztyn-Mazzini, not adding any until the malolactic fermentation is finished, or minimising SO2 addition before bottling, like Jean-Nicolas Méo or Pascal Mugneret. Thibault Liger-Belair now uses natural sulphur that he sources from a Polish mine. He finds that it combines with the wine far more easily and does not mask the terroir expression. Levels of malic acid are generally low in 2017 though Jean-Nicolas Méo find his levels higher than expected, making the effect of conversion upon maturing wines more pronounced. Some winemakers claim that malolactic was quite fast; for others, like Hudelot-Noëllat, it proceeded more slowly (depending on ambient cellar temperatures and whether the wines were warmed up.) The length of barrel maturation seems to divide opinion. Louis-Michel Liger-Belair is convinced that a shorter élevage is necessary in order to capture freshness of fruit and intends to bottle earlier; likewise Pierre Duroché, whose 2017s were bottled in November. Others will bottle in spring 2019 with the usual length of time in barrel, arguing that the second winter will add depth to the wines. This was borne out by my own tastings. In a sense, the 2017 reds are being taken more seriously than 12 months ago.
Visiting cellars, I have noticed more experimentation with alternative vessels, including cigar-shaped barrels at Domaine de la Romanée-Conti, more demi-muids at Domaine Lamy, clay amphorae at Domaine Fourrier, and here, an unusual oak amphora being trialled by Gilbert Felettig.
Finally, one trend in 2017 is not just a full complement of a domaine's wines, but the debuts of new cuvées made possible by viable quantities of wine. For example, Ghislaine Barthod offers another two Chambolle-Musignys from Les Noirots and Les Sentiers, whilst two of her neighbours introduce cuvées from Les Borniques, a Premier Cru that runs on from Musigny. At Domaine de l'Arlot, they parsed out a parcel of vines in Clos des Fôrets to introduce their Cuvée Hors Ligne, whilst Jean-Michel Chartron will introduce one-off Cuvée Centenaire bottlings to celebrate a century since his family bought the parcels.
How The Tastings Were Done
Since Stephen Tanzer published his report on the Burgundy 2017 whites earlier this year, my itinerary focused upon the reds. I expanded my remit with Chardonnay-centric domaines not included in Tanzer's report, those I have followed for a number of years, and one or two new discoveries. In addition, Antonio Galloni will publish notes on several domaines he regularly follows separately.
I spent four weeks in the Côte d'Or, during which I rang the doorbells of over 100 growers, maintaining a steady pace of around six or seven visits per day. All tasting notes were composed at the domaines, so what you read are real-time impressions of barrel samples. The two exceptions are Joseph Drouhin and Albert Bichot, whose samples were tasted at portfolio tastings in London, where I could take my time and conditions are professional. One welcome trend is that more wineries have invested in warm, comfortable, odourless tasting rooms, which means that I avoid balancing my beleaguered laptop between two barrels whilst my fingers freeze and residues of Pinot Noir seep into the keyboard. Readers should note that although this report is large, it is not complete. Some winemakers prefer visits after Christmas and there are addresses that I simply ran out of time to visit in a professional manner. Expect more in early 2019.
Every little thing helps. Dujac kindly provided a portable wooden ledge so that I could write comfortably as I moved around their cellar.
As a rule, I always taste the complete range of wines, not just regional Bourgogne Rouge (or Blanc), but also Bourgogne Passetoutgrain, Bourgogne Aligoté, Côteaux Bourguignons and, since its introduction in 2017, Bourgogne Côte d'Or. This last category seems to have been embraced by a number of wineries. It was introduced by the INAO to distinguish wines whose fruit comes exclusively from the Côte de Beaune and Côte de Nuits, whereas Bourgogne Rouge can legitimately source fruit from Beaujolais or Chardonnay from the Mâconnais. Many consumers are probably unaware of the percentage of regional wine that comes from outside the Côte d'Or (I am not implying that this compromises quality).
The Wines
Before broaching the quality and style of the Côte d'Or reds, let's get the main headline out of the way…
There is wine! Hallelujah!
I am not being facetious. Burgundy became accustomed to empty cellars and furrow-browed winemakers bemoaning how hail, frost or mildew depleted and sometimes eradicated entire cuvées, leaving less cash-rich growers fearing for their economic survival. Burgundy is now blessed with not one, but two abundant vintages in 2017 and 2018. And as I shall explain, decent quantity does not imply dilution or even lightness.
In terms of quality, let me briefly concur with Tanzer regarding the quality of the 2017 whites. My sample size is smaller than his, yet there are some quite brilliant whites that, many growers are beginning to opine, equal or even surpass the haloed 2014s.
The 2017 reds are very good, often excellent, and from time to time, bloody awesome. The benign growing season predicates one of the most consistent vintages I can remember in 20 years of visiting Burgundy. There was nothing to trip winemakers up, no curveballs to send them off course, apart from controlling vigour in parcels affected by the previous season's frost where vines tried to compensate for the preceding year's shortfall. Consequently, this is not a season where I can really single out one appellation's superiority. They all have something to offer. However, I want to mention Nuits Saint-Georges, since it does not receive its fair share of recognition. The appellation might not gleam with Grand Crus; however, it is home to propitious terroir and prices are often cheaper compared to other appellations. And allow me to single out Les Pruliers, which really shines in 2017, several growers providing exemplary examples from this Premier Cru.
Bertrand Chevillon, pictured at his domaine, is one of the leading growers in Nuits Saint-Georges, an appellation that excels in 2017.
In some ways, the 2017s are "default" wines. After the trials and tribulations of recent years, this season often reminds me what these multitudinous climats should taste like. As nearly every winemaker opined, 2017 is a vintage that distinguishes one vineyard and/or one terroir from another with satisfying clarity. The growing season did not leave such a heavy imprimatur upon the wines as others, including 2015 and 2016. Wines are governed more by the DNA of each vineyard and then sculpted by winemakers' decisions.
Rumours abound that the 2017 reds are relatively light and that they lack the concentration of 2015 due to fewer solar hours and less heat, or the concentration of 2016, where frost-affected vineyards could focus energy and accrete sugar within fewer surviving bunches. This stems from the idea that low yields are a prerequisite for concentrated wines, but that is only partially true. Why? Firstly, this report focuses on la crème de la crème, and at this level, winemakers have the wherewithal to control yields through green harvesting and/or are blessed with naturally less vigorous old vines. Gathering figures for yields directly from winemakers, within the purview of this report, 2017 is a regular crop rather than an excessive one. Perhaps we are used to reduced yields and have begun treating them as the norm. We should focus more upon the optimal yield subject to the vagaries of the growing season and individual terroirs. Optimal yields were achieved by many domaines in 2017. Secondly, for sure, it was an early harvest. But it followed an early bud-burst, which means the hang time necessary to impart complexity and reach phenolic ripeness was obtainable. Thirdly, many of the berries had low skin-to-juice ratios (unlike in 2018) and thick skins that provided ample tannic backbone.
Generally, whilst the 2017 reds might not be as concentrated as the previous two vintages, there is no way you can claim the wines are light. Not only are they imbued with real fruit intensity, but they also seem to be gaining density during their élevage, especially after their malolactic fermentation, as they enter their final months in barrel. Who knows; the 2018s may well end up being less consistent and less dependable than the 2017s.
Perhaps one disadvantage facing the 2017s is the scarcity of superstars or showstoppers like 2015 and 2016, and potentially 2018 also. It is not that kind of vintage. A benign season is not going to single out a particular soil type, vineyard, appellation or grower and elevate them to an ethereal plane that gets everyone excited. That lack of "headline action" or "100-point stars" should not devalue a growing season. Quality is evenly spread and the winners are the consumers gifted more choice.
Aromatics are generally heightened, particularly towards floral aromas such as pressed violets or iris. Often that freshness manifests citrus flavours, sorbet-like traits of orange zest or blood orange that infuse the fruit. The 2017s are unquestionably fresh. Acidities are normal, with pH levels of 3.30 to 3.50, so they feel lively and tensile, as great Pinot Noir should. The days of over-extraction and pushing the wines too hard thankfully lie in the 1990s and early 2000s. Nearly all wines reached phenolic ripeness by early September and I cannot recall a single cuvée that exhibits greenness. They veer as much towards black as red fruit, depending upon terroir and winemaking. The 2017s are generally well balanced. Where they are not, it is often due to misjudgement in the winery, but many vignerons are now prudent and knowledgeable in terms of selecting the optimal date to start picking, which in 2017 was much easier than in 2018. Winemakers know when to ease off fermentation temperatures, or limit the duration of cuvaison or the maceration in terms of remontage. The few 2017s that come across laboured or excessively heavy tend to stick out. Generally, tannin profiles are fine yet provide ample frame for the fruit. Think of them as having the carbon frame of a high-end racing bicycle: strong without weight.
The expression that best sums up the 2017 reds is in the title of this article: A Modern Classic. As much as I would like to claim responsibility for that, I must thank my Hong Kong friend who uttered that phrase over dinner in Dijon. But it perfectly encapsulates a vintage that is traditional, yet thoroughly modern.
Appreciating Regional Burgundy and Bourgogne Aligoté
Entry-level wines are an important category. The litmus test of a talented winemaker is not the quality of their Premier or Grand Crus; rather, it is the quality of their regional wines and Village Crus. The latter wines' comparative inexpensiveness (I am loath to use the word "cheapness") means they often constitute the only affordable Burgundy entry point for consumers, thereby acting as the region's unheralded ambassadors. It is these wines that will be compared to Chardonnay or Pinot Noir from other countries in order to judge where money is best spent and a possible lifetime's drinking preference cemented. Winemakers are cognisant of this and in recent years they have paid more attention to the entry-level labels that bear their name. Look out for some interesting takes on Bourgogne Rouge, such as Anne Parent's Sélection Pomone, which undergoes an extended maceration, or Charles Lachaux's Bourgogne Pinot Fin; both represent great value and offer a twist on regular Bourgogne Rouge. Some very fine winemakers' portfolios centre upon regional and/or Village Cru wines – for example, Laurent Fournier and Sylvain Pataille, both in Marsannay, the latter offering a range of quite rightly revered Aligotés.
Sylvain Pataille, pictured here with his stagière, is one of the winemakers spearheading a reappraisal of Aligoté.

Pataille has been instrumental in the overdue reappraisal of Bourgogne Aligoté. Too long considered "sub-Chardonnay" and lacking the variety's nobility, on the contrary, it offers a refreshing stylistic alternative. Latest figures show that Aligoté currently represents 6% of plantings, which is actually higher than I presumed. The so-called "Aligoteur" movement, a collective of vignerons promoting the grape variety through organised tastings, strategic co-operation and exchange of information, is making inroads into restaurant wine lists, particularly those shunning Burgundy due to escalating prices. On a personal note, I notice that some famous growers refrain from pouring their Bourgogne Aligoté, as if embarrassed by it. Please don't be! Truth is that 2017 is a fecund vintage for this resurgent variety. Aligoté will become increasingly important in the coming years and I will continue to taste as many Aligoté wines as I can.

A happy Pierre-Jean Roty of Domaine Joseph Roty posing with his mum's delicious gougères. Though the domaine has Premier and Grand Crus to its name, Roty's regional wines are well worth seeking out.
The Market
I commence this section with a few statistics courtesy of the latest BIVB report. The 2017 vintage produced a total of 1.508 million hectolitres of wine. The main export continues to be the United States with 22% of total volume, helped by a favourable euro/dollar exchange rate. Sales were up 9% during the first eight months of 2017. Japan, too often overlooked, is the third largest importer, whilst China is in tenth place, interestingly shifting towards white rather than red Burgundy. The UK remains a vital market, although volumes have dipped, partly due to the shortfall in production, especially in Chablis (20.3% down in 2017), and partly due to uncertainty shrouding Brexit.
Burgundy: An Imperilled Soul?
Of course, the headlines are dominated by the transition of Burgundy from a region with niche appeal, too Byzantine for all but nerdy oenophiles, to the Holy Grail of viticultural regions. It does not matter where you go in the world: winemakers perceive Burgundy as the apotheosis of viticulture, the purest manifestation of terroir. There are good grounds to disagree with that view. Burgundy unequivocally has its own imperfections and shortcomings. However, this idea of Burgundy as ne plus ultra fuels demand that increases exponentially with status or rarity. Apropos of the half-dozen most feted names, demand for that single barrel of elixir knows no bounds. Market prices, which should be distinguished from often far more reasonable ex-domaine prices, rocket into figures inconceivable vis-à-vis a couple of decades ago.
Is the bubble going to burst? Theoretically, it must at some point. But frankly, at least at the very top, I cannot see it happening in the near future, because if money is no object, then what motivates your purchase? Rarity. Sorry to my friends overlooking the Gironde: Bordeaux does not possess it. Burgundy does. The chase for the elusive shows no signs of abating, to the extent that higher prices paradoxically increase demand rather than vice versa. There will come a point where even the super-rich will close their wallets. They are not stupid. But their passion bordering upon obsession for Burgundy is such that they are willing to pay whatever it costs for that elusive Henri Jayer or Domaine de la Romanée-Conti. And if I had that kind of money, I would do exactly the same (if my wife allowed, of course).
Boris Champy at Domaine des Lambrays. Champy took over from the retiring Thierry Brouin and now essentially works for LVMH, though wisely, he seems to have been given carte blanche to run the winery without outside intervention.
One note of caution: Much of the demand is coming from mainland China. In 2018, the Chinese central bank tightened the outflow of domestic currency that is, of course, necessary to pay for that expensive Grand Cru successfully bid at auction. Will it stymie demand? Well, it certainly poses some problems, for some recent headline auctions and potentially for the forthcoming Bordeaux primeur campaign, though doubtless there are ways it can be overcome. I mention this because I believe only extraneous global economic factors could alter the demand for top Burgundy wines – factors that the Burgundians themselves have no control over.
Burgundy's gilded reputation and escalation of prices have inevitably spilled over into real estate hunters' quest to prize open proprietors' fingers and acquire family-run domaines. Luxury conglomerate LVMH's acquisition of Clos des Lambrays sent shockwaves through Burgundy, setting a precedent for subsequent high-profile acquisitions that include François Pinault's purchase of Clos de Tart from the Mommessin family, and most recently, the Bouygues's partial acquisition of Domaine Henri Rebourseau. Several respected domaines divulged that they are actively courted by representatives of affluent oversees buyers eager for their piece of prime Côte d'Or, especially underperforming domaines sitting on propitious Premier and Grand Cru dirt (a strategy that canny AXA-Millésimes pursued successfully from the mid-1980s.) Rebuff their offers all you want; when you start waving blank cheques under shareholders' noses, especially those with only financial interests in domaines, it can be impossible to resist. That is exactly what happened to the Mommessin family. Why get by with a few free bottles each year when you can secure your family's financial security for the rest of their lives? Ineluctably, other domaines will be sold in the next few years. Who's next? Who are the hawks circling over at the moment?
Burgundy winemakers fear the dilution of l'esprit Bourguignon, look in dismay at the corporatisation of Bordeaux and speculate whether a similar fate can be avoided. Families face astronomical inheritance tax bills as a consequence, denying the next generation of winemakers their own chance to farm the family's vines and follow in their ancestors' footsteps. At the end of the day, money talks. However, Burgundy is intrinsically attached to the identity of the winemaker, the interplay between a vigneron and their patch of vines. It is the lifeblood of the region. Divest a domaine of its winemaker and it does not matter how much you invest or how amazing you are convinced your wine has become; something is irretrievably lost. Loyal consumers who fuelled demand lose interest as soon as the ink dries on the contract. The name might remain unchanged, but it transmutes into a brand. Whilst Burgundy has had its own share of brands since time immemorial, there comes a tipping point where outside ownership usurps indigenous artisan winemakers who define the region. Its soul is lost forever. That is what many dread, as Burgundy inches towards that point with each acquisition.
Final Words
Let me end my first major Burgundy report for Vinous on a positive note. For one, the trend for outsiders buying domaines is not necessarily bad, nor is it a new trend. Wines can dramatically improve to consumers' benefit, though more often than not, they will be asked to pay more for the privilege, thereby furthering the disenfranchisement of the next generation of potential Burgundy-lovers. The abundant crops in 2017 and 2018 have lessened the pressure of supply, and indeed, it would not surprise me if some domaines wisely keep back some percentage of their production, just in case another frost- or hail-affected vintage lies around the corner. Many friends in the trade have commented that prices for 2017 will either remain constant or increase a little. But do not expect prices to follow the rational laws of supply and demand. They are not going to fall, at least at the top end, though I have heard that bulk prices have eased in recent months. Burgundy will be expensive for the foreseeable future. But it remains a magical, unique region. Nothing is quite like Burgundy when you drive past historical vineyards, visit ancient vaulted cellars lacquered in mould and meet genuine winemakers who devote their lives to tending vines, cleaning out presses, driving forklifts and receiving writers like myself. The 2017 reds have a lot of charm, will give a lot of pleasure and will surprise many with their longevity.
Nobody makes Pinot Noir like Burgundy.
My thanks to Gabrielle for organizing my complicated itinerary and the occasional last-minute moving of appointments. Once again, thank you to my Hong Kong friend for uttering the title.
See the wines by appellation: Beaune | Chambolle-Musigny | Côte de Beaune | Fixin, Marsannay | Gevrey-Chambertin | Morey-St-Denis | Nuits Saint-Georges | Pernand-Vergelesses, Aloxe, Ladoix | Pommard | Volnay | Vosne-Romanée

You Might Also Enjoy

Blind Vision: 2015 Burgundy Red & White, Neal Martin, November 2018

2016 White Burgundy: Excellent, But Complicated, Stephen Tanzer, September 2018

2017 White Burgundy: Quantity, Quality and Great Charm, Stephen Tanzer, September 2018

Burgundy Northern Satellites: Irancy & Saint-Bris, Neal Martin, August 2018
Producers in this Article