Browse using the new Vinous website now. Launch →
Printed by, and for the sole use of . All rights reserved © 2015 Vinous Media
Friuli: It is What It Is, Part 1
Friuli's oenological landscape is one of the most diverse and multi-faceted in Italy. An extraordinary range of sites and microclimates, along with influences from neighboring Slovenia and Austria, yields wines that at their best are compelling. That is the good news.
But times are tough in Friuli. There is no getting around it. Several high-profile estates have been sold recently, including Schiopetto – arguably the most famous winery in Friuli – while Dorigo, another historic family, sold off their top vineyards. My impression is that a number of other properties are facing significant economic challenges.
Twenty years ago, Friuli was the undisputed number one region in Italy for white wines. That has changed dramatically. Today nearly every region in Italy makes interesting wines, so there are fewer reasons for restaurants to bring in wines from other parts of the country. Domestic demand has dried up. Internationally, quality has exploded everywhere, which means competition is more intense than it has ever been. Friuli is also hindered by high production costs (especially in hillside vineyards that require intense manual labor), which frequently places these wines at a competitive disadvantage in an increasingly global marketplace.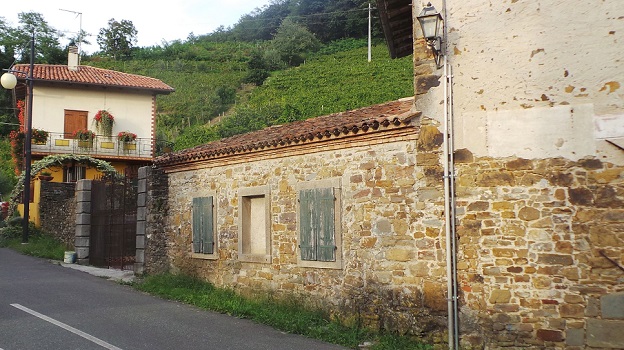 A street view in Cormòns, Collio
Given the current economic context, an all of the surrounding uncertainty, it is hard for owners to make the investments that are needed to ensure consistently high quality. In my view, that is starting to show up in the wines, as even some top estates have begun to underachieve. Still, I am convinced Friuli is capable of making world-class whites and reds that can compete with the very best.
Friuli remains an insular region, much of that a reflection of the cool, inward Friulian mindset. I am starting to see that change, which is great, because if Friuli is going to emerge from its current malaise the only hope lies with the younger generation that is now beginning to take over at some of the region's better properties.
Tasting in the cellar at Miani, Buttrio
2013 – Highs and Lows
Getting a handle on current vintages in Friuli is challenging because growers follow a wide range of aging, bottling and release schedules. A number of the wines in this report are 2013s, a vintage that has turned out to be inconsistent. I tasted a handful of Sauvignons that are especially aromatic and tense. Friulian Sauvignons often showcase the greener, grassy side of the grape. In 2013, those qualities are accentuated. It is a style some readers will appreciate more than others. I also came across some 2013s that showed advanced colors and flavors, and that are likely to be near-term drinkers. As always, it pays to focus on producer, producer, producer.
August 23, 2014. These rot-stricken grapes were harvested by machine a few days after this photo was taken
2014…It Is What It Is
Two thousand fourteen will go down as one of the most challenging vintages in Friuli. The cool, overcast, damp summer presented dismal conditions. Growers were faced with the onset of rot along with fruit that did not look like it might ever ripen, especially for the white varieties. The choice was basically to harvest unripe fruit early and take a chance that the wines could be adjusted in the cellar or risk losing the entire crop, neither of which could be called a good choice. In the end, virtually all growers picked before rot became rampant. The 2014 whites are thin and diluted, but on the good side, they largely have no unpleasant aromas or hard edges, which in and of itself is a small miracle. Overall, the 2014s are innocuous, average wines that will do in a pinch but that fall far short of what is possible here. Growers had the cards stacked against them mightily in 2014. Readers will see many scores in the 80s…those correspond to the better wines of the vintage.
I plan to taste an additional set of wines in the coming months and publish Part II of this article later in the year.
-- Antonio Galloni
Producers in this Article