Browse using the new Vinous website now. Launch →
Printed by, and for the sole use of . All rights reserved © 2015 Vinous Media
Vintages of Paradox & Mystery: A Preview of 2018 and 2017 in Germany and Austria

BY DAVID SCHILDKNECHT | JANUARY 15, 2019
In canvassing Germany's precarious vintage 2000 for The International Wine Cellar in early 2002, I led off by observing:
"The decade of the 1990s was an extraordinary one for German vintners. At its midpoint (back in Issue 64), I wrote: 'We are in the midst of a streak of vintages utterly unprecedented in the history of German viticulture.' And I hadn't seen or tasted the half of it!"
Not the half of that extraordinary decade, I meant. But I hadn't witnessed even one-fifth of the unprecedented streak that has continued to this day. By now, any grower or avid consumer of Riesling under 45 years of age has no recollection of a genuinely underripe vintage; and any over 35 has witnessed or at least tasted the consequences of so many unparalleled and record-shattering meteorological events as to become practically inured to what can aptly be termed "the new abnormal." And yet, after three decades of wide-eyed head-scratching, I keep finding myself in situations that make me want to beg, "Somebody, please, prick me to convince me I'm not dreaming!"
A Once-In-My-Lifetime Experience?
Talk about unforgettable moments from 2018: If anybody had suggested to me in 2002 that there might come a year in which on September 11, I would be tasting bone-dry Grüner Veltliner from a top grower and site grown that very year – let alone finding it both recognizable and delicious – I could only have thought, "You're joking!" Even given all that has transpired meteorologically since notoriously torrid 2003, not to mention virtually unprecedented conditions during the summer of 2018, I scarcely anticipated what Bernhard Ott meant by "something I want to show you" when he winked as I prepared to depart our tasting session and motioned for me to follow him across the courtyard that separates his house and cuverie.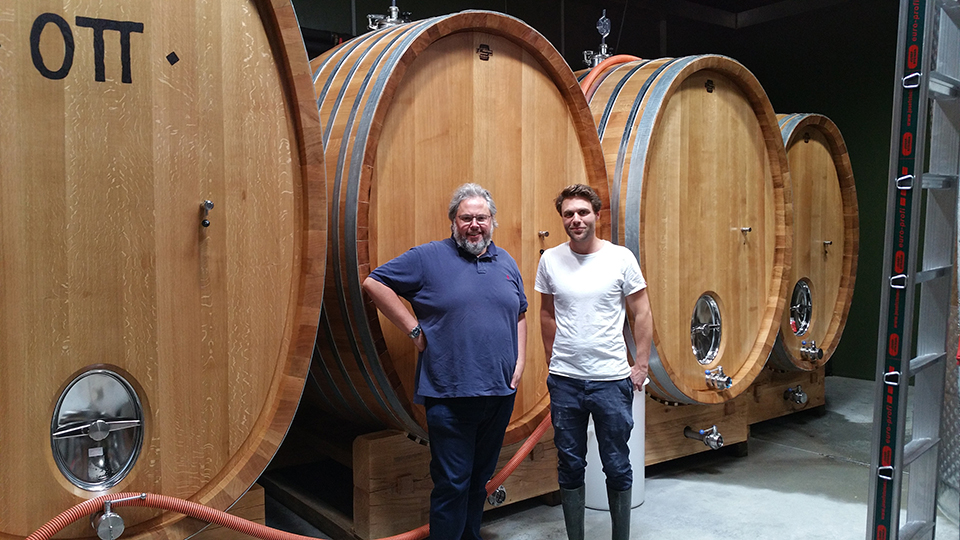 Bernhard Ott and Alex Schenner look happy to have harvested many of their top Grüner Veltliner parcels in the last days of August 2018. Behind them, on September 11, stands a new cask whose already delicious, bone-dry contents had just been racked to tank.
I can't claim to have been utterly slack-jawed on learning that Ott and his crew had picked like crazy in the last days of August. The greater shock turned out to be what they had chosen to pick.
A cool March held back bud-break and helped to render localized spring frosts harmless, but beginning in April – which smashed average temperature records for Germany as a whole and brought 80-degree days to many Riesling-growing sectors – virtually every aspect of vine and grape development in Germany as well as Austria approached or set records for precocity. The summer was an almost uninterrupted series of hot, dry days, with Lower Austria distinguished by a bit of localized midsummer rain, but not enough to reverse drought conditions. When the sober and respected German weekly Die Zeit publishes an article on July 30 headlined "The Worst Harvest of the Century," and notes that although "there is no shortage of rhetorical superlatives this summer ... the statistics confirm them," you know the situation referred to must be dire indeed. Though, as its authors immediately pointed out, wine growers represented an exception to their headline. Every other sort of farmer was experiencing a drought crisis that no amount of August rainfall could possibly redress.
And did any precipitation in fact materialize last August? When I just now checked records kept by the Institute for Atmospheric Physics at Mainz's Johannes Gutenberg University, I found this charmingly unscientific lead-in to their report on the month of August 2018:
"Often, computers of which one has become fond simply give up on their owners. If the esteem is mutual, then the computer kindly hangs in there when it counts and breaks down just when it isn't desperately needed. That's how it was for our weather station with the PC that for 15 years has been recording, storing and transmitting levels of rainfall. Sadly, on July 31 it gave up the ghost. Presumably it will have been thinking that in the midst of this drought it wouldn't be needed anyway. And it wasn't incorrect in so thinking. Good old-fashioned hand-measurement recorded for August a cumulative precipitation of 19.4 millimeters [three-quarters of an inch] – and a good fifty percent of that fell in a single thunderstorm on August 30. That is laughably little precipitation even for Mainz."
The Rhine at low ebb by Rüdesheim, November 1, 2018
Perhaps "laughably" was an unfortunate choice of words. It wasn't just farmers who were vexed. The Rhine fell so low that petrol-bearing barge loads had to keep lightening until traffic came to a virtual standstill. From Switzerland to the Ruhr, gasoline prices hit record highs and there was a run on stocks of home heating oil. Cruises were canceled, and in most places not even the ferries could function. Children along this river are familiar with disruptions from flooding or even occasional "snow days," but they were having fun trying to invent a word for when your school is closed due to low water because it serves both banks and the nearest bridge is 30 miles distant. It's not as though you could just walk across. Well, actually, in some places, you almost could. Police had to be called in beneath the Rüdesheimer Berg Schlossberg after people began lining up to traipse across a precarious gravel bar and invade the "Mouse Tower" (named for the resident rodents that allegedly devoured a malevolent 10th-century bishop). That isolated icon had only been accessible to pedestrians two or three times in its history. While water levels in the Mosel and Danube did not fall quite so dramatically as in the Rhine, conditions on shore were scarcely less extreme. Whereas in 2016 most Riesling-growing sectors had by June experienced precipitation in excess of annual averages, they finished 2018 with all-time record lows.
From Vine to Glass by September 11
Bernhard's Ott harvest calculations also involved forecasts for September first rain that would prove gross underestimations. I was driving overnight from the parched Mosel, and after I crossed the Danube at Melk – historically the Wachau's western terminus – all thoughts of "thank goodness I'm nearly there" evaporated, as I found myself crawling the last 40 kilometers to Krems through standing water and sheeting rain, the leading edge of what would turn out to be a three-day event. After a few hours of shut-eye, I jogged over to Markus Lang's open-air press at the foot of the Schreck vineyard on the edge of Stein's ancient town walls. Lang is a notoriously early harvester and I had visions of him and his grapes being caught out in the rain. But the steel and fiberglass behemoth that represents his take on an ancient Baumpresse was deserted and gleamingly spic 'n' span. Lang had picked his vines clean and finished pressing on August 31. When I got around to tasting with him a week later, he was predictably pleased with himself.
By September 1, 2018, Markus Lang's remarkable press (depicted here in action the previous year) was already locked down and deserted for the remainder of the year.
There was no way Bernhard Ott could harvest his crop – from a surface area many times that of Lang's – with the short notice he had of impending rain. But his experienced crew, including his extended family, was at hand. And, as he likes to emphasize (crediting a biodynamic regimen – which Lang shares), his grapes taste ripe early. "I decided to begin picking with my best sites," he explained, "and to just get as much brought in as I could before it began raining." Ordinarily, the harvest at Ott commences – as it does nowadays at many if not most Austrian and German estates – with a so-called Vorlese (literally a "pre-harvest"), meaning a pass through the vineyards to cull botrytis-tinged or otherwise precarious fruit; to drop any clusters that look unlikely to fully ripen (often those drought-affected or products of secondary growth) but which haven't already been removed; and to encourage optimum ripening and flavor concentration in what remains. Early picking also typically includes parcels with young vines and ones optimally positioned to render relatively lightweight wines for early drinking. At this point in 2018, scarcely any Austrian or German Riesling or Grüner Veltliner grapes are botrytis-afflicted or look unlikely to reach ripeness.
As usual, Ott had purchased several new casks – a familiar practice nowadays among top-notch Austrian and German growers. Ordinarily, even after aggressive steam-cleaning, new casks would receive must from early pickings destined to be blended away into generic bottlings, further sapping the wood's potency in anticipation of receiving must from the top sites. There having been no Vorlese, and fruit from Ott's best parcels having been rushed to the presses first, into several big new casks went Grüner Veltliner from the Spiegel and Stein vineyards. A new oak vessel promotes rapid fermentation, as do musts picked in warm conditions (provided, of course, that you don't chill them aggressively). Two weeks later, only one gram of residual sugar remained in the Spiegel. It had already taken on a faint oak patina, so Ott had racked it to tank, whence I tasted it that September 11.
A Record-Early Yet Late Harvest
Thankfully for affected Riesling growers, western Lower Austria's September rain let up on the third day – though not before engendering some unwelcome botrytis – and dry, clear weather returned. Picking there began in earnest, just as it did in the Pfalz Mittelhaardt, along with parts of Rheinhessen and the Rheingau. Nor were the Mosel, Nahe or Südliche Weinstrasse far behind. It's safe to say that at this point, the very last thing any Riesling growers could have imagined was that the harvest of 2018 would end up finishing late. And yet, for a significant share of German growers, as well as some in Lower Austria, that is precisely what ensued. For very many, this proved to be their longest harvest on record, and for some, the last (non-frozen) grapes would come in almost ridiculously late. "Good basic ripeness was achieved early, but wringing the last few degrees Oechsle out of Riesling was difficult this year," observed Hansjörg Rebholz, who blames the effects of drought on stony, fast-warming, fast-draining sites, and insists that "whatever colleagues I correspond with in other regions, they report that harvesting their top-quality grades of Riesling was a tedious affair [langwierige Angelegenheit]."
Tedious, perhaps; but happily, once drought-stressed young vines were relieved of further responsibility – and once Austrians had culled any botrytis – 2018 also proved to be among the most stress-free Riesling harvests of recent times. ("Almost frighteningly relaxed" was how Daniel Wagner put it.) This length and leisure, given a harvest that had begun precociously and in haste, can certainly be called a paradox. But it is not one of those mysteries to which my title alluded, because the explanation is simple: With few exceptions (notably a massive storm nicknamed "Fabienne" that grazed the Südpfalz), dry, clear weather continued virtually unabated through November – but not the heat, since September eventually ushered in cool temperatures (especially at night). Must weights moved slowly and acid levels, while relatively low, stabilized. Growers relaxed in anticipation of aroma-building hang-time, and their crews rejoiced in extended employment and a process of picking that was often as easy as snip, snip, and snip.
When I returned to Germany at the end of October, astonishingly many products of September picking – including Rieslings from first-class sites like several of Leitz's from the Rüdesheimer Berg – were already not only entirely tasteable but enticingly delicious. Even more amazing, though, was how many growers – especially on the Mosel and Nahe – reported that a significant number of parcels were still hanging over and beyond those in which they planned to play Eiswein poker. "I keep checking on the remaining vines and the fruit is in rude good health," noted Georg Rumpf on November 2, adding that he intended to harvest them within a few days. Helmut Dönnhoff reported not just, predictably, selected rows in Oberhäuser Brücke left hanging, but several other small parcels as well. In a few instances, "significant" was an understatement for what remained unpicked. When I arrived at Harald Hexamer's in mid-afternoon on a chilly Sunday, November 4, a trailer-load newly arrived from the Schlossböckelheimer Königsfels was parked out back, glowing in its load of unblemished, translucent Riesling berries. And there was still a whole hectare left to bring in from that site, not to mention from several other locations. At that point, Hexamer had already been picking for nearly eight weeks.
This impeccably healthy November 4 load represented only the first picking of Harald Hexamer's Schlossböckelheimer Königsfels Riesling, almost eight weeks after he had begun his 2018 harvest.
As I write this, 2018 is history... but not the 2018 vintage. Temperatures appear to have come nowhere near Eiswein requirements in any Riesling regions. Some growers are still being patient. But it's clear that in the meantime, numerous intriguing products of exceptionally long hang-time will have been harvested, most of which are likely to have been declared as Auslese. Whether or not Eiswein ever materializes is, however, the least of growers' concerns as midwinter approaches. Hard frost plays an important role in killing off spores and larva that might otherwise come back to haunt growers when the 2019 harvest approaches. Conversely, many of the finest vintages – and this applies to diverse regions of northern Europe, not merely to Riesling-growing sectors of Austria and Germany – are associated with deep chills the winter before. Even more critical at this point than plummeting temperatures is some serious precipitation, hopefully as blanketing snow, but rain would do. There have been some worrisomely dry winters in recent decades, just as there has been frequent summer drought. But what Riesling vines have thus far been spared is one coming on top of the other. And if that happens this time, vines are liable to be especially vulnerable.
The Big Mystery of Vintage 2018: Its Bigness
"In many ways," remarked Hardy Werlé, echoing comments made to me by dozens of growers, "results in 2018 were as expected." Acid levels are relatively low throughout Riesling-growing Europe (acidification will once again be permitted in Germany – no surprise, as that's been the case in eight of the last 10 vintages); but because malic acid was baked off or degraded by relentlessly balmy weather means, what acid remains is overwhelmingly of the efficacious tartaric sort. Extract levels are low, as one would anticipate from a growing season during which relatively little moisture was coursing through the vine's roots and shoots. "There's one thing, though," added Werlé, "that's downright perverse [abartig]. Everyone is astonished how there could have been so much juice despite the drought."
In late August 2018, after nearly a hundred rain-free days, even this utterly neglected old vineyard high above Trarbach (overlooking a warm, algae-laden Mosel) was ripening a crop, testimony to the mysterious reserves exhibited by Riesling vines in 2018.
Vintage 2018 doesn't just represent the first bumper crop in several years. For Germany it represents a 25% increase in volume over the 10-year norm, with some Riesling-growing sectors recording an even larger increase. The crop in Lower Austria is 15% in excess of the 10-year norm.. Even allowing for quality-conscious growers green-harvesting or halving clusters, a lot of bunches hung. Yet, with a few exceptions, such as Austria's uninterruptedly arid northeastern Weinviertel, only genuinely youthful vines or those in extremely thin, rocky soil seem to have suffered shutdown or failed to ripen plentiful grapes. More remarkable was an abundance of must in the face of conditions normally associated with high skin-to-juice ratios and even desiccation, though as many growers reminded me, 2018 did not approach 2003's series of 100-plus-degree days, and apparently only such extreme heat prematurely desiccates Riesling to the point of puckered skin. (Many growers in Austria experienced reductions in Riesling, but that was due to having culled botrytis; Grüner Veltliner cropped generously.)
Given this plethora of impeccably healthy, improbably juicy, high-must-weight grapes, there must by definition have been sufficient reserves of moisture in the soil, however deep down, and one can surely credit this to a January with rainfall far in excess of long-term norms. (To be sure, in Austria irrigation once again played a role.) But even after having been taken by surprise this time, no growers I've spoken or corresponded with can possibly imagine a bumper crop being repeated in 2019. Many of them point to past patterns of vine fatigue and low yields in years following an especially abundant vintage or an especially dry one. So how will the vines react after a vintage that was both dry and abundant? That would be a concern even if the specter of low winter precipitation were not already upon us. Vintners have a lot to be thankful for – but also a lot to keep them up at night. Increasingly, many German growers are talking seriously about (or even already undertaking) the installation of drip lines, now that irrigation is permitted. But where will the water come from? Rationing has already become an issue in Austria. Moreover, even after three decades of irrigation and an attendant, previously unimaginable consistency of harvest success in the Wachau, Kamptal and Kremstal, there are still those who worry about possibly deleterious long-term effects on the vines, as well as a few top growers, like Malberg and Jurtschitsch, who are determined to avoid irrigating.
The anomaly and mystery of a large crop in a hot, dry year is worth bearing in mind when trying to anticipate how vintage 2018 quality might ultimately be assessed. There is a tendency, especially in Germany, to associate very large crops with quality ranging from good but ultimately uninspiring (1970, 1999) or charming and easygoing (1973, 1982) to downright disappointing (1992). In all of the just-mentioned years, generous, sometimes inopportune rainfall played a significant role in German Riesling viticulture, and only 1999 involved a hot, dry summer. Yields in 1999 in Lower Austria – associated there with an excellent vintage – were above average, but not exceptionally so. The abundant crop of 2011 is associated there with only modest quality, and also with abundant rainfall prior to the onset of hot, dry mid- and late summer weather. That chronology was more or less reversed with Lower Austria's crop of 2017 – abundant where Germany's was meager – inasmuch as heat and drought were broken well ahead of harvest by cooling late summer rain. In short, there is no reason to discount the possibility that – on top of the records it has already set – 2018 in Riesling-growing Austria and Germany might also end up being remembered for exceptional quality.
High Acids from a Hot (2017) Summer
Vintage 2018 may hold few surprises when it comes to grape chemistry; the mystery is in its abundance. But vintage 2017 has proven less explicable. I wrote about this growing season in Austria and Germany when things were still "hanging in the balance," and shall soon be publishing detailed reports on the resultant wines. In Germany, there was just as much heat and as little precipitation in the summer of 2017 as in summer 2018; and in parts of Lower Austria the midsummer drought of 2017 was even more severe. In many regions, picking in 2017 began only a week later than it was to commence the following year. Hot, dry conditions represent a recipe for low acidity and low extract. So how to explain the generally abundant – at times, downright aggressive – acidity, not to mention abnormally high levels of dry extract in Rieslings from 2017?
As I pointed out in one of my reports on vintage 2015, three theories tend to prevail among growers and viticulturists in trying to explain how a year with a hot, dry summer can still result in wines with prominent acidity. One theory is that vine stress, even if it does not involve extended periods of outright shutdown, retards respiration of malic acidity. But 2003 – or for that matter, 1959 and 1976 – would seem to be dramatic counterexamples. Another theory about 2015 was that cool weather and moisture commencing in late September actually caused the fruit to regain acidity. But most Pfalz Mittelhaardt Riesling had been harvested by early October 2017, yet is far from low acid. The most plausible explanation is one on which I quoted Hansjörg Rebholz, a scientifically-minded and successful veteran if ever there was one.
"How did wines like [those of 2015] emerge from such a hot, dry vintage, and not wines like the 2003s, which was what most people expected? The difference," Rebholz insisted, "is clearly accounted for by the overall weather pattern. From the very beginning, the [2015] growing season was dry and warm, so the vines prepared to protect themselves accordingly. There was relatively little foliage – we only had to hedge once – and thus fewer leaves to supply with moisture and less surface area for evaporation. By contrast, in 2003 we had a normal, wet northerly spring and beginning of the vine's vegetative period, after which summer's severity took the vines by surprise and sent them into shock." If this explanation is to stand, then it seems as though one should focus on the month of April, which was exceedingly dry in 2017 throughout Riesling Germany (whereas March and May precipitation were close to normal). By contrast, rainfall in April of 2018 was abundant.
Freaks for Geeks
The matter of dry extract (everything in a wine save for water, alcohol and sugar) is quite a bit less explicable. Ordinarily, drought makes for low extract, except where outright shriveling manages to concentrate everything in the grape at the expense of water. And what begs for explanation in 2017 are off-the-chart levels. Repeatedly, analyses for wines that were declared as Kabinett or Spätlese harbored dry extract such as one usually only associates either with products of desiccation – Beerenauslesen and TBAs – or, for those of us who can remember back that far, with relentlessly rained-on and ultimately unripe crops. Extract-wise, even the freakish 2010s have nothing on these 2017s. Unsurprisingly, in vintages where relatively few grapes are hanging – where the plant has, if you will, fewer mouths to feed – more solid matter will be accumulated in the grapes. So it's understandable that the many growers whose crops were decimated by frost in 2017 would point to this as an explanation for their wines' high levels of dry extract. But that explanation won't wash. In numerous sectors and villages that escaped the great late April 2017 frost, one witnesses the same extreme levels of extract.
All this might be of only geekish interest if dry extract were irrelevant to taste. And in fact, there is by no means consensus as to whether one can taste dry extract _per se_, and whether high levels genuinely track with sensory impressions of density. Or at least, there is no clear consensus under normal circumstances. But 2017 levels, as noted, are utterly abnormal. Thirty-five grams of sugar-free solids per liter – 60-90% in excess of what's typical for Riesling from healthy grapes, but an amount routinely registered among 2017s – represents roughly the same amount of mineral matter as found in an equivalent volume of sea water. That translates into around four and a half teaspoons of "stuff" being left in your bottle of bone-dry Riesling if the rest had been boiled away. Put that way, one could be forgiven for speculating that surely this must be relevant to taste.
At the very least, in the amounts present, I find it hard not to associate high extract levels with the palpable sense of density and the strain-through-your-teeth impression conveyed by many 2017s. (I make a point of not surveying a wine's analysis until I have made my initial tasting note.) And this much is alleged to be clear from basic chemistry: dry extract serves to raise pH and, in the process, buffer acidity. In the realm of speculation is the insistence of many growers that extract conduces to vinous longevity.
There is one more phenomenon associated with high extract that is generally overlooked. It lurks behind what most wine growers will misleadingly refer to as variable, vintage-dependent efficiency of alcohol conversion. It's very much worth asking – especially among vintners who rely on ambient yeasts – whether yeasts may, depending on vintage, prove more efficient or less in converting a given amount of sugar into alcohol. But typically, when growers speak of Alkoholausbeute ("alcohol yield") they are referring to the relationship between degrees Oechsle and eventual potential alcohol.
Even among growers whose harvest decisions are motivated primarily by monitoring the weather forecasts and tasting grapes, measuring must weights typically plays a significant role. On September 13, 2018, Andreas Adam – hydrometer immersed in a graduated cylinder full of grape must – considered which parcel of Riesling should get picked first.
Must weight, while it generally serves well as a guide to sugar in one's grapes, is in fact a measure of density (or of specific gravity, i.e., the ratio of density relative to distilled water) and as such is influenced by whatever else besides sugar is dissolved or suspended in the must. In a year when high extract levels have accumulated in the grapes' juice, growers will find that their eventual wine has less alcohol than their Oechsle measurements led them to expect. And when extract levels are unexpectedly – to say nothing of freakishly – high, they might even be freaked out. So it isn't just the tendency for grape sugar levels to have plateaued or for growers to consciously pick at lower must weights – though, to be sure, these are the most important factors – that help explain relative alcoholic moderation in dry vintage 2017 Rieslings.
This brief article serves as an overview of the 2018 and 2017 vintages. Reviews will be published in separate future articles.

You Might Also Enjoy

Austria's Riesling and Grüner Veltliner: 2016's Challenges Met, David Schildknecht, December 2018

Austrian Riesling & Grüner Veltliner: Up to the Challenges of 2016, David Schildknecht, October 2018
Vintage Report – Drama in Three Acts: 2016 in Germany and Austria, David Schildknecht, September 2017
Vintage Preview – 2017 in Austria and Germany: Hanging in the Balance, David Schildknecht, September 2017