Browse using the new Vinous website now. Launch →
Printed by, and for the sole use of . All rights reserved © 2015 Vinous Media
Mosel 2015: Rain in the Nick of Time
BY DAVID SCHILDKNECHT | JUNE 22, 2017
Seldom has a vintage been better suited for tapping the awesome abundance of talent that has accumulated along the 135 circuitous miles of the Mosel between Trier and Koblenz, where sites and growers are testing one another's potential with increasingly exciting results.
As I detailed in the introduction to my initial report on this German Riesling vintage (covering the Saar and Ruwer), 2015 was characterized by high temperatures and low precipitation all the way from January until early September, with heat and drought reaching stressful proportions for most of the summer. Major rainfall then ushered in a period of cool, clear weather that extended in most sectors from the last days of September into early November, permitting growers for whom delay of harvest was a reasonable option to eventually strategize and optimize their picking. In Willi Schaefer's words, "It was a picture-book autumn, with four weeks of perfect weather."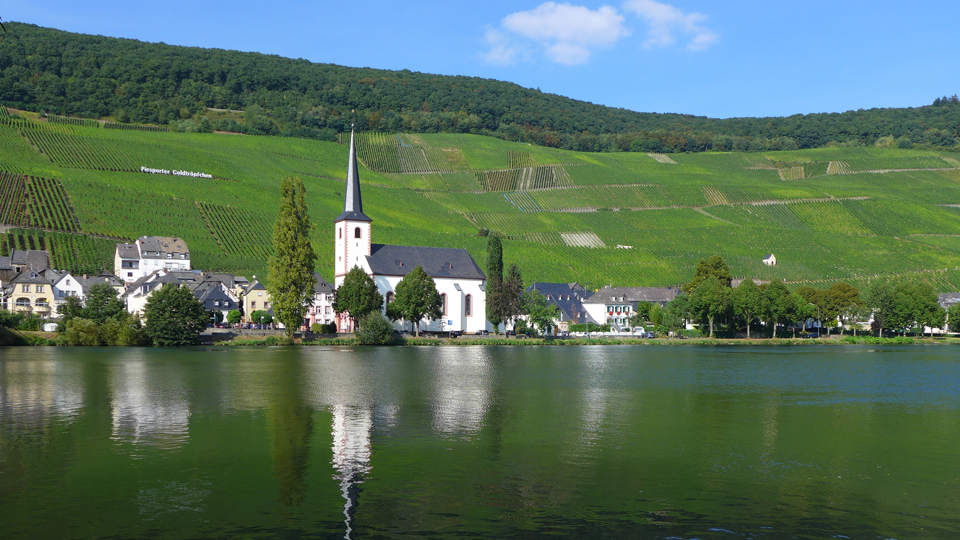 Abuse of the village name "Piesport" and dearth of growers doing justice to its fabled slopes are now, happily, just bad memories. I have never tasted a larger number of profoundly delicious Piesport Rieslings, most of them from somewhere within the enormous site known as Goldtröpfchen, whose amphitheatric core rises immediately above "Old Piesport."
The resultant wines have little in common with those from other vintages characterized by extreme drought and heat, but that apparent paradox resolves itself when one considers that the vines (in conspicuous contrast to 2003) were primed by a warm, dry spring to handle what ensued. The rains came just in time to re-activate any vines that had shut down or were malingering, and cool weather arrived ahead of the point at which grapes might otherwise have begun losing acidity. We have thus ended up with a vintage of ripe, largely botrytis-free wines that are high in acidity, as well as unexpectedly high in extract considering that the vines were short of water for most of the growing season.
The Mosel's 2015 Advantage
Degree of success in this universally fine German Riesling vintage depended, above all, on the ability of one's vines to withstand the heat and drought of summer and then to take full advantage of the dry weather that followed the drenching September rainfall. Those cool, sunny, breezy weeks were ideally suited to building aromatic and phenolic finesse; to retaining acidity but swapping malic for tartaric; and to warding off rot. The Middle Mosel, with its high quotient of deeply rooted old vines as well as its inevitably delayed ripening when compared with the Rhine, was thus ideally equipped to capitalize on 2015's potential. Still, technique, intuition and hard work in the vineyards were important as always.
In eclipse until Theo Haart began championing it in the 1990s, the talents of Wintrich's massive Ohligsberg are nowadays being deliciously realized at several addresses. Julian Haart crafted a sensational Ohligsberg Spätlese, yet high up in this site he was still able in late October to harvest a remarkable Kabinett. The Ohligsberg's aptitude for dry Riesling is demonstrated especially this year by Stefan Steinmetz, who has also revived the strikingly talented Geiserslay (formerly Neuberg, in the side valley to the right) and four small terraces at the right-hand edge of this photo that are officially part of the huge Einzellage Piesporter Treppchen.
Erden vintner Stefan Justen reminded me of another Mosel advantage: increasingly, many growers aggressively hedge and leaf-pull in nervous reaction to so many humid recent growing seasons challenged by fungal infections and ultimately rot. But that approach, Justen explained, was bound to backfire in 2015, inviting sunburn, early dehydration and eventual flavor handicaps. "The effects of direct ultraviolet exposure on the grapes are themselves negative," he noted, "including loss of acidity, bitter phenolics and premature petrol character." He had in mind many of his own neighbors. Nevertheless, the share of growers in a position to perform knee-jerk hedging and the percentage of vineyards at all amenable to that approach are relatively small on the Mosel, a region dominated by slopes too steep to work by machine and a small but significant share of whose vines are still in Stockkultur – i.e., trained to single posts. Despite the predominance of ancient vines, many still trained in that manner, the most celebrated stretch of the Lower Mosel immediately upstream from Winningen was especially challenged. The exposure of these towering terraces and their paucity of soil as opposed to sheer rock leave them especially vulnerable to heat, drought and premature loss of acidity. Even so, as my notes demonstrate, there are some superb 2015s from this sector.
"Growers did good work in the vineyards this year had absolutely no work to do in the cellar," enthused Christian Hermann, adding "I've never experienced a vintage when things ran this uncomplicatedly and when even spontaneous fermentations required so little SO2 to stabilize." But naturally, human aptitude at every stage is critical to success, and in that regard it can scarcely be too greatly emphasized how much talent and ambition reside in this remarkable viticultural region. To assess the qualitative evolution of the Mosel, Saar and Ruwer, consider the following statistic: of the fourteen estates I visit regularly today, fully one-quarter of them did not exist 20 years ago, or not in anything remotely resembling their current form. I can make no similar claim on behalf of any other German Riesling-growing region – and, believe me, not for lack of trying to ferret out exciting start-ups.
Cellar the '15s with Guarded Optimism
As I noted in my initial introduction to vintage 2015 (part of my report on Saar and Ruwer Rieslings), the vintage in recent history that probably most resembles 2015 is 1990, an analogy that prompts a note of caution, inasmuch as a majority of 1990s entered a protracted period when prominent phenols and acids evolved into an awkwardly green and edgy state from which many (especially among those finished trocken) failed to recover. But Thomas Haag is quite correct in pointing to the flattering creaminess that characterizes many of the best 2015 Mosel Rieslings, and that is something I don't recall from the young 1990s. "That creaminess," he suggests, "comes from the ripeness and tiny berries engendered by the hot, dry summer, while the cool phase contributed complexity, acidity and minerality." Markus Molitor is among the many growers who think 2015 has a lot in common with 1990. But he insists that the acidity is riper, something borne out by analyses showing high ratios of tartaric to malic acid. It's noteworthy in this regard how many Middle Mosel Auslesen of the vintage – which, granted, tend to reflect only modest, if any, botrytis – deliver sheer refreshment.
Opposite Dhron and Neumagen, the Häs'chen, recently acquired by Andreas Adam, exemplifies obscure, scrub-encroached Mosel vineyards with distinct and diverse talents. Adam's 2015 Häs'chen upstages its dry siblings from the famous Dhroner Hofberg and Piesporter Goldtröpfchen.
Meanwhile, the clarity and expressiveness of the best Kabinetts is itself a small wonder given a vintage that will rightly be associated with both a hot, dry summer and Rieslings of advanced ripeness. Remarkably, even Kabinetts harvested already in late September or the first days of October display abundant fruit as well as cut and invigoration. Yet wonderful, featherweight Kabinetts sometimes emerged from mid- or even late-October pickings. Above all, as Molitor noted apropos his own situation, "one has to consider the years of intensive vineyard work that lie in between" 1990 and today, an observation that could be extrapolated to much of viticultural Germany and to cellar work as well. Quality consciousness, viticultural standards and know-how have advanced significantly – I'm tempted to say dramatically – over the past quarter century. Still, with 1990 in the back of your mind, cross your fingers and plan to regularly monitor what you cellar.
Mountain Rescue: Good News and Bad
The Mosel's prodigious human talent keeps rising to the challenge of restoring additional long-neglected steep slopes, usually representing sites whose high potential was already well recognized by the late 19th century, as witness the tax assessments and auction prices of that era. I commented in some detail when introducing the 2014 vintage on the concentration of both eager, talented growers and long-neglected but once top-rated sites along a roughly nine-mile (15-kilometer) stretch of the Mosel above and below Traben Trarbach, including the diminutive adjacent Kautenbach. Twenty-five years ago, no one could have imagined the renaissance of this sector. Martin Müllen and Daniel Vollenweider were just starting out, while the only estate still rendering exciting Rieslings from the stretch in question, Immich-Batterieberg, was about to slip into a two-decade slump. But this sector merely offers an especially concentrated example of a phenomenon taking place up and down the Mosel. No fewer than ten of the Middle Mosel growers I regularly taste with have just since January 2015 acquired holdings in Einzellagen that are new to their estates.
All of this "mountain rescue" is good news for a region whose overall vine acreage continues to shrink, and whose steep slopes and challenging economics every year convince more growers to give up. " ("Mountain rescue"—Bergrettung—is the expression adopted by members of a group that calls itself the Klitzekleiner– i.e., "Teeny-tiny"—Ring, to contrast it with the VDP's Grosser Ring.) In many villages, a significant share of whatever steep slopes are still being well maintained belongs to Hobbywinzer (hobby winegrowers) now well into retirement, and whose children would be disinclined to adopt that hobby even if they had free time or lived nearby. While victory in the battle to save Weinland Mosel can certainly not be measured in sheer acreage, one cannot help worrying about the degree to which overall shrinkage may affect the fortunes of those vineyards and vintners that remain. If nothing else, many Mosel wine villages are losing a little of their traditional, touristic landscape and esprit de corps as they shed vintners and increasingly become bedroom communities. In that regard, it's heartening to witness Roman Niewodniczanski's Saar revival now being extended to include major contracts for grapes from along the Mosel at Mehring and Schweich, villages a mere 15-minute commute from Trier and 45 minutes from downtown Luxembourg.
Like the doorbell at Brunnenstrasse 11, Ürzig, little has changed since Rolf and Alfred Merkelbach took charge there in the 1950s. But if you imagine that a 79 and an 82 year-old could no longer double-handedly generate vinous excitement, then you underestimate these brothers and their ancient Würzgarten vines.
But make no mistake: even many Mosel vineyards that once enjoyed prestige will end up abandoned; and current German laws designed to encourage "biotopes" (protected habitats) render it increasingly difficult to reclaim scrub for viticulture, even within prestigious sites that are still largely in vine. A single patch of scrub in the process of becoming woods can wreak havoc on neighboring vineyard parcels by harboring pests and shading adjacent rows. (Mention of pests is a good excuse to report another bit of at least temporary good news: the suzukii fly so disruptive to German viticulture in 2014 was inhibited by the heat and drought of 2015.)
Restoration of Mosel vineyards has gone hand in hand with enhanced appreciation for the heritage of genetic diversity and collective wisdom (via massale selection), not to mention the literally deep roots, that old vines represent. But diseases, chronic viral infections, erosion and sheer old age continually take their toll (the spread of Esca, a fatal vascular infection of vine stocks, is becoming especially alarming). And for those who need to replant and who share the received opinion among Mosel veterans that ungrafted vines give superior fruit, there is another piece of welcome news: The several-year ban on planting ungrafted vines has recently been lifted. Growers who plant vines that are würzelecht (own-rooted) still lose the option of taking out government-subsidized insurance on their vines. And they can still plant only in vineyards where no phylloxera was ever recorded, but that includes a large share of the Mosel's best slopes.
Another belief still widely held among Moselaner is that the best results come not just from old, ungrafted vines, but from ones that, following longstanding tradition, are trained, heart-shaped, to single posts. But the share of vines still being handled this way is diminishing dramatically, not just because it is so labor-intensive but because the last generation of vineyard workers who still know how to perform the requisite pruning and binding is now well past normal retirement age. Growers with significant shares of vines in Stockkultur such as Clemens Busch and Ulrich Stein report that theirs are being groomed now exclusively by a very few ladies in their 70s, although there are certainly some small estates where this craft is being handed down within a grower's own family or perhaps even practiced by the grower her- or himself (like Julian Haart at his diminutive but hugely impressive estate).
"Underneath the two most prominent rock outcroppings above runs the diminutive Piesporter Schubertslay, whose ancient, ungrafted vines, revitalized by Julian Haart, sourced the most striking in his trio of Kabinetts."
This report is based on my visits in September of 2016 to 43 Middle and Lower Mosel growers' cellars, supplemented by subsequent sampling. The Saar and Ruwer, nowadays subsumed by wine law under "Mosel," were covered in my preceding report, although additional outstanding Saar Rieslings from Middle Mosel-based Markus Molitor and Nik Weis (St. Urbans-Hof) are reviewed in this article. Details regarding the conventions followed in my reports for naming and scoring wines, including an explanation of when and why I reference A.P. (official registration) numbers, can be found in the aforementioned "Part One," covering the Saar and Ruwer, as well as in my reports on the 2014 German Riesling vintage. The 2015 Rieslings of Germany's Rhine regions will be the focus of my next report.
You Might Also Enjoy
Saar and Ruwer 2015: Rain in the Nick of Time, David Schildknecht, October 2016
2014 on the Mosel: Man Bats Last, David Schildknecht, October 2016
2014 Mosel: A Hard But Often Rewarding Harvest, David Schildknecht, October 2016
Rescuing Ruwer Riesling in 2014 ... and Beyond, David Schildknecht September 2016
The Saar 2014: Stress for Success, David Schildknecht May 2016
2014 Germany: Riesling Resists Rain on the Rhine, David Schildknecht May 2016
Producers in this Article